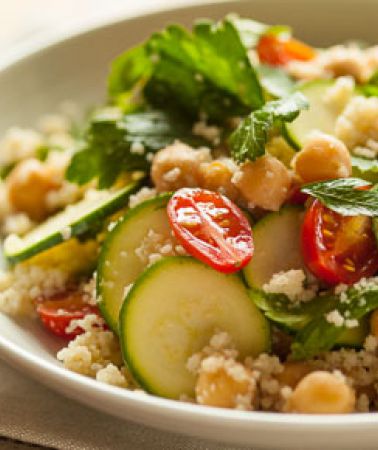 Creamy tahini and tart wine vinegar dress whole wheat couscous, tossed with tomatoes, zucchini and chickpeas. Follow the time-saving techniques in the method to make extra-quick work of this salad or light main course.
Ingredients:
1 1/4 cup boiling water
1 cup whole wheat couscous
5 tablespoons white wine vinegar
1/4 cup tahini
1/8 teaspoon fine sea salt
2 small zucchini
1/4 bunch fresh flat-leaf parsley
1 cup grape tomatoes, halved
1 (15-ounce) can chickpeas, rinsed and drained
Method:
In a large, heatproof bowl, pour water over couscous, cover and set aside for 5 minutes. Uncover, fluff with a fork, and set aside to let cool for 5 minutes more. Meanwhile, whisk together vinegar, tahini and salt in a second large bowl. Thinly slice zucchini over dressing, and then use kitchen shears to snip parsley leaves into the bowl; discard stems. Add tomatoes, chickpeas and couscous and toss gently to combine.
Nutritional Info:
Per Serving: 210 calories (50 from fat), 6g total fat, 110mg sodium, 34g carbohydrates, (7 g dietary fiber, 4g sugar), 9g protein.