A lack of runs and an uncertain future opened Cook up to criticism ahead of the third Test, but the former captain has passionately fought his corner as his 150th Test approaches
Alastair Cook has passionately defended his commitment to playing Test cricket for England in the face of sustained criticism over his motivation. In recent days, both Kevin Pietersen and Mitchell Johnson have speculated that Cook will retire at the end of this series. But ahead of his 150th Test – a milestone that only seven other cricketers have achieved – Cook said that although he was in the "latter part of my career", he would carry on playing for "as long as I can".
How long that turns out to be in reality is anyone's guess. Cook is only 32 years old, and still in superb physical condition. But perhaps of greater relevance is the 149 Tests on the clock, including a record 59 as captain, and the mental toll that has taken over the last 11 years. That was what Johnson was getting at when he claimed that Cook was "thinking about retirement", and had lost the "fire in his belly". Pietersen, meanwhile, observed that Cook has looked "not very interested" at points during the series.
The runs have dried up, too: just 62 so far this series, just three centuries in his last 56 innings, no century in 33 innings against Australia. But Cook revealed that he had been taking on extra net sessions during this tour, including a 90-minute stint on Monday morning with his personal batting coach Gary Palmer. "That," he argued, "is not a guy who's given in. The people who are saying that [he is considering retirement] have had no contact time with me. It's just filling column inches."
Ashes Second Test – in pictures
What continues to motivate him? Records and milestones have never really interested Cook, even though 12,000 Test runs is within reach, perhaps even this series if he gets his act together. "It's a special thing to walk out and play for England," he said. "And that's why I love doing it. It's a very proud moment when you play for England, whether it's at the very start of your career, or your last – I mean, 150th – game. I didn't mean that, that was a very bad slip of the tongue…"
A Freudian slip, perhaps? Certainly Cook did not rule out the possibility of retirement, nor deny that he had been pondering it. His sacking as one-day captain in 2014 – a decision that clearly still hurts – has taught him how quickly the game can turn. "To be honest with you," he said when asked whether this would be his last series, "I have no idea.
"Things change incredibly quickly. I was taught a lesson in 2014. In the morning, I was expecting to lead England in that World Cup, and in the afternoon I got a phone call saying they didn't want me to do it. An hour after a meeting when they said they wanted me to. You end up living on the edge in professional cricket."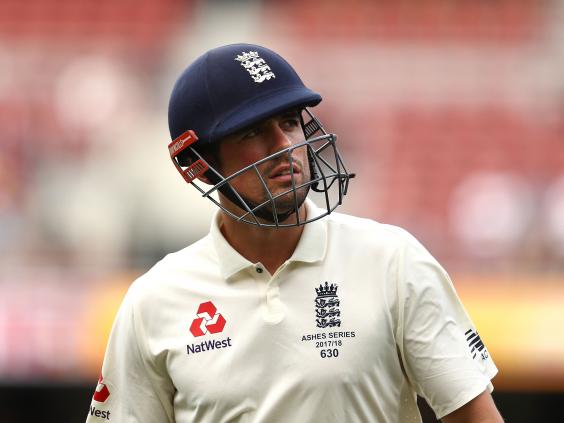 However close the end may be, it still feels strange to envisage an England team without Cook in it. The Perth Test will be his 148th in a row, an unbroken run just five short of Allan Border's world record, and given that his nearest challenger Steve Smith is almost 100 Tests behind, it is entirely possible that should he set the record it may never be broken. And although Cook has always been happier looking forward than back, it was with a certain pride that he reminisced about a Test career that began with a century on a raging turner in Nagpur in 2006.
"I probably didn't think I would be here when I turned up in Nagpur all those years ago," he admitted. "Clearly there's luck involved: the couple of niggles I've had have been away from the Test scene. So to play 140-odd consecutive games is special."
There was a lament, too, that various off-field events have eroded the public affection for the England team that Cook's side strove so hard to regain from 2015 onwards. Cook was correct to identify that the rules have changed for England's cricketers since Ben Stokes's arrest in September, but said he was "irritated" by some of the headlines that had appeared in recent weeks.
"The world obviously changed for the England cricket team in September," he said. "And it's probably taken us a couple of months to really realise that. The one thing I will say about this England side – and it's changed even since I was captain, is that I've never seen a side work this hard – Trevor [Bayliss, coach] is cancelling practice sessions after three-and-a-half, four hours. So I don't think we're being painted fairly in the media.
"We can't afford any more mistakes. The stakeholders – the ECB, sponsors – are trying to encourage kids to play cricket, and that's what we want. Go back to 2013. We won an Ashes series 3-0, but the public weren't happy. There was a disconnect between the players and the public, and in the last three or four years we've made a massive effort to get that connection back.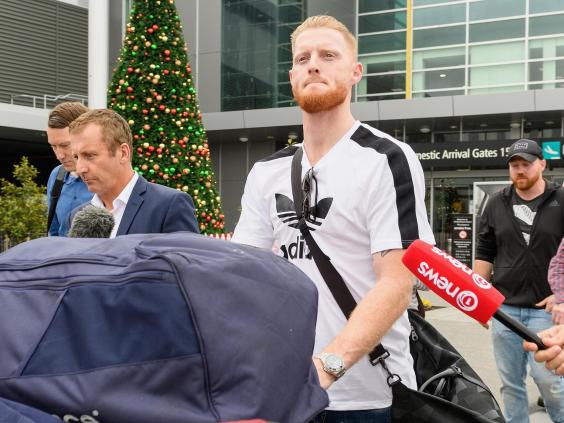 "The last couple of months have damaged that. We've got to rebuild it. People pay a lot of money to come and watch us here in Australia. At home, the support we get is fantastic. So we've got to build that trust back up. These incidents have proven that there is very little margin for error when you've had a beer."
In the meantime, Cook insisted that his focus was on compiling the big innings that could drag England back into a series in which they are in danger of being humiliated. "Clearly I'd like to score more runs," he said. "My job at the top of the order, and it has been since 2006, is to try and get England off to a good start, and on this tour, I have struggled. Four games ago I got a double hundred. It doesn't get any easier. But that's why it's called Test cricket. It's meant to be hard."
Source: www.independent.com