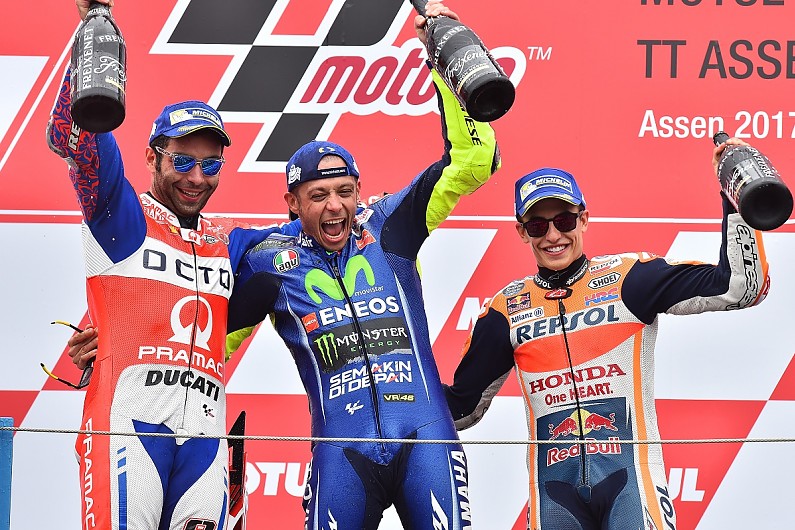 Valentino Rossi took his first MotoGP victory in more than a year in the Dutch TT at Assen, beating Danilo Petrucci in a pulsating duel by just 0.063 seconds.
Rossi and Petrucci broke away from a four-rider pack that also included Marc Marquez and Andrea Dovizioso in the final laps, as poleman Johann Zarco's race unravelled after the onset of a light drizzle.
It was Dovizioso who emerged from it all with the championship lead, as Rossi's Yamaha team-mate Maverick Vinales crashed out.
Zarco had led the opening laps on his Tech3 Yamaha, but couldn't break away from Marquez, Rossi and Petrucci.
Rossi moved ahead of Marquez for second on lap 11 of 26, and the following lap grabbed the advantage off Zarco, who had opted to run soft tyres front and rear, at the first corner.
Zarco attempted to retaliate, but in doing so his front wheel made contact with Rossi's rear, the rookie slipping back behind Marquez as a result.
Any hopes of a repeat of the 2015 Assen duel between Marquez and Rossi were thwarted by a charging Petrucci, who took third off Zarco at half-distance and then deprived Marquez of second three laps hence.
Rossi had stretched a gap of one second at the head of the field at this stage, with 10 laps left to run, and it was the following lap that spots of rain began to fall and the white flag was shown, indicating to riders they could come in for a bike swap.
Zarco took the plunge, having been demoted by Dovizioso to fifth, but lapped several seconds off the pace on his second bike and was not a factor thereafter.
The top four – with Dovizioso having charged from ninth on the grid to join the leading trio of Rossi, Petrucci and Marquez – all stayed out on slicks, with the rain never intensifying enough to warrant a change of tyres.
Dovizioso rose as high as second as he passed Marquez and Petrucci in short order, but wasn't able to pass Rossi, as Petrucci came back to overtake the factory Ducati rider and then take the lead from Rossi with five laps left.
But Petrucci's lead proved shortlived, as he was passed by Rossi at the final chicane with three laps to go in what turned out to be the decisive move of the race.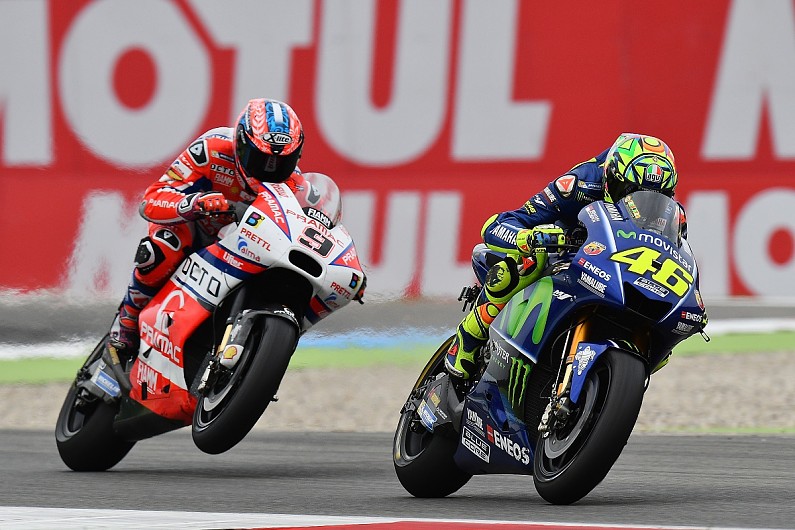 Petrucci fought back, but lost time finding a way past lapped riders and fell just 0.063s of beating his compatriot at the flag.
It marked Rossi's first win of 2017, his first since last year's Barcelona race, and his eighth in the premier class at Assen.
Behind, Dovizioso and Marquez became embroiled in a fierce scrap over third, only to be joined by the LCR Honda of Cal Crutchlow in the final two laps.
In the end, it was Marquez who grabbed the final podium spot by just 0.042s from Crutchlow, who in turn beat Dovizioso to the line by only 0.084s.
Jack Miller took advantage of the slippery conditions to finish sixth on the Marc VDS Honda, 23 seconds off the lead, ahead of Karel Abraham, Loris Baz and Andrea Iannone and Aleix Espargaro, who all stayed out on slicks.
Zarco was the best finisher of those who pitted for a second bike, coming home in 14th despite a pitlane speeding penalty, ahead of Jorge Lorenzo – who also pitted and taking the final point in 15th, a lap down on Rossi.
The highest-profile retiree was Vinales. The Yamaha rider had fought his way up to fifth from 11th on the grid by lap 12, only to crash out at the final chicane.
It means Dovizioso now leads the points by four from Vinales, while Rossi moves up to third, only seven off the lead. Marquez is 11 behind Dovizioso in fourth.
Satellite Ducati riders Scott Redding and Alvaro Bautista had also been in the mix for top-six results early on before both crashing, while Sam Lowes also fell while running on the fringe of the points.
Zarco's team-mate Jonas Folger went off at the first corner and crashed out when trying to recover. Bradley Smith was the other rider to fall.
RESULTS – 26 LAPS:
| POS | RIDER | TEAM | GAP |
| --- | --- | --- | --- |
| 1 | Valentino Rossi | Yamaha | 41m41.149s |
| 2 | Danilo Petrucci | Pramac Ducati | 0.063s |
| 3 | Marc Marquez | Honda | 5.201s |
| 4 | Cal Crutchlow | LCR Honda | 5.243s |
| 5 | Andrea Dovizioso | Ducati | 5.327s |
| 6 | Jack Miller | MVDS Honda | 23.390s |
| 7 | Karel Abraham | Aspar Ducati | 36.982s |
| 8 | Loris Baz | Avintia Ducati | 37.058s |
| 9 | Andrea Iannone | Suzuki | 37.166s |
| 10 | Aleix Espargaro | Aprilia | 1m01.929s |
| 11 | Pol Espargaro | KTM | 1m09.384s |
| 12 | Tito Rabat | MVDS Honda | 1m10.121s |
| 13 | Dani Pedrosa | Honda | 1m10.344s |
| 14 | Johann Zarco | Tech3 Yamaha | 1m35.655s |
| 15 | Jorge Lorenzo | Ducati | 1 Lap |
| 16 | Hector Barbera | Avintia Ducati | 1 Lap |
| 17 | Alex Rins | Suzuki | 1 Lap |
| – | Scott Redding | Pramac Ducati | Retirement |
| – | Alvaro Bautista | Aspar Ducati | Retirement |
| – | Bradley Smith | KTM | Retirement |
| – | Maverick Vinales | Yamaha | Retirement |
| – | Jonas Folger | Tech3 Yamaha | Retirement |
| – | Sam Lowes | Aprilia | Retirement |
CHAMPIONSHIP STANDINGS:
| POS | RIDER | POINTS |
| --- | --- | --- |
| 1 | Andrea Dovizioso | 115 |
| 2 | Maverick Vinales | 111 |
| 3 | Valentino Rossi | 108 |
| 4 | Marc Marquez | 104 |
| 5 | Dani Pedrosa | 87 |
| 6 | Johann Zarco | 77 |
| 7 | Danilo Petrucci | 62 |
| 8 | Jorge Lorenzo | 60 |
| 9 | Cal Crutchlow | 58 |
| 10 | Jonas Folger | 51 |
| 11 | Jack Miller | 40 |
| 12 | Alvaro Bautista | 34 |
| 13 | Scott Redding | 33 |
| 14 | Loris Baz | 31 |
| 15 | Andrea Iannone | 28 |
| 16 | Aleix Espargaro | 23 |
| 17 | Tito Rabat | 23 |
| 18 | Hector Barbera | 21 |
| 19 | Karel Abraham | 20 |
| 20 | Pol Espargaro | 11 |
| 21 | Alex Rins | 7 |
| 22 | Michele Pirro | 7 |
| 23 | Bradley Smith | 6 |
| 24 | Sam Lowes | 2 |
| 25 | Sylvain Guintoli | 1 |
Source: www.autosport.com