Image copyright: usatoday
When the long tennis season finally comes to a close, it's not unusual to find many players seeking secluded hideouts where they won't likely run into people they see the rest of the year.
That's exactly what Roger Federer did with his family late last November, picking the Maldives as the perfect escape.
As it turned out, however, the tropical Indian Ocean nation wasn't quite that far off-the-beaten-path. Marin Cilic, who Federer will play for a 20th career Grand Slam title in the Australian Open final on Sunday, had the same idea about vacation spots.
"I was there first, I think, and he arrived later on the island," Federer, 36, said after his Friday night semifinal ended abruptly at 6-1, 5-2, 30-30 when Korean Hyeong Chung retired from the match with painful blisters.
"I was told that Marin was coming (to the island)," Federer said. "I was like, 'Oh, that's cool.'"
At first, as to not be interfering, they kept their distance from each other.
"When he arrived, I didn't want to bother him," Federer said. "He didn't want to bother me. After two days, he wrote me: 'I'm here, too, in case you want to catch up and stuff, let me know.'
"I was like, 'Sure, let me know if you want to hit.'"
Image copyright: deccanchronicle.com
Apparently, even on holiday it's tough to keep a player off the court. So the two shared a couple of friendly practice sessions.
"He was eager to hit because it's good to stay in the rhythm for both of us," Federer said. "It's great fun. No coaches, no nothing, just the two of us on the court hitting balls. It was just nice and laid back. To get to know the man behind the tennis player, I guess."
The second-seeded Federer reported there was also a bit of Maldives off-court socializing, saying, "We also met up later for drinks, met his fiancée. We had cake together, my whole family and him. We had a good time. It's not like we're hanging out all the time, but our paths crossed a few times."
When the two finalists take to the court on Sunday the atmosphere is likely to be quite different then the relaxed time shared in the Maldives.
While Federer and Cilic are respectful opponents, they will be clocking work hours at the office in the final. Translation: they'll both have winning on their minds.
The sixth-seeded Cilic's only recorded one career victory over Federer in nine meetings, but it was a monumental win in his career.
Cilic has reached a Grand Slam final twice, winning the 2014 U.S. Open. His road to that title included a stunning 6-3, 6-4, 6-4 semifinal win over Federer.
They played twice last year – in the Wimbledon final and a round-robin match at the year-end ATP Finals – with Federer winning both encounters. Cilic came into the Wimbledon final carrying a left foot injury and clearly struggled to play. He also had difficulty keeping his emotions in check at not being able to offer his best effort.
In Cilic's mind, the recent Wimbledon experience could be an asset to his performance in the upcoming final.
"I think it's gonna help me to stay focused on what I have to do," said Cilic, 29, after defeating Kyle Edmund in a straight-set semifinal Thursday night. "It's big motivation for me to play the final and obviously to win. I'm feeling really good with my game."
If Federer wins, he would become the first man in history to win 20 singles titles at the majors. He would also become only the fourth player to win at least 20 Grand Slam trophies behind Margaret Court, Serena Williams and Steffi Graf.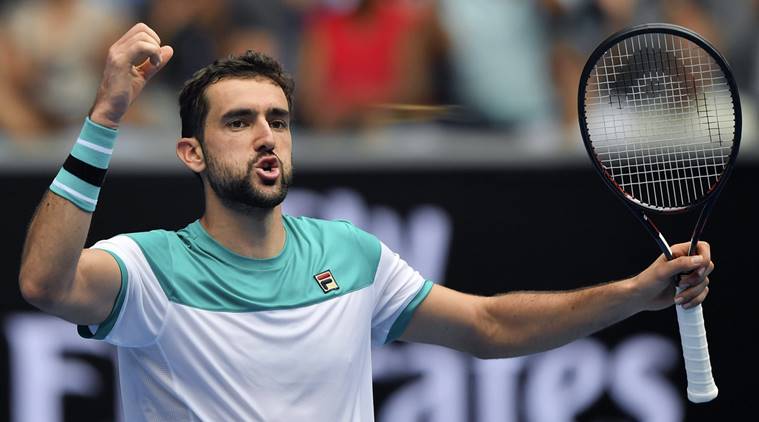 Image copyright:The indian Express
One of the reasons Federer is such a champion is he knows it's important to walk on a court with confidence, but to never assume there's a guaranteed victory in the offing.
To that end, he certainly won't be taking Cilic, already a Grand Slam champion, for granted.
"I definitely think him winning the U.S. Open, like Stan (Wawrinka) winning here a few years ago, it gave them great belief they can do it," Federer said. "If the big moments come about, that they can attain this level.
"I like his attitude," Federer added. "He's always very much the same regardless of whether he wins or loses….On the court, he's a winner. You can see it on the way he behaves on the court. He's there to win and not just to be there."
In the upcoming rankings game, Federer will retain the No. 2 spot behind Rafael Nadal, and Cilic, no matter whether he wins or loses, will rise to a new career-high No. 3 on Monday morning.
Source: www.usatoday.com