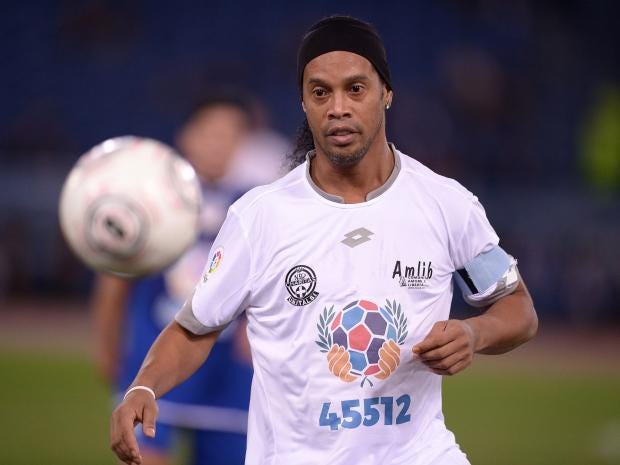 Ronaldinho is willing to come out of retirement to play for Chapecoense after their devastating plane crash.
Brazilian football great Ronaldinho is ready to come out of retirement to play for Chapecoense in an effort to help rebuild the club after the devastating plane crash in Colombia on Monday night killed the majority of their squad, coaching team and club staff.
71 people died in the crash in the mountainous region near Medellin in Colombia, including 19 first-team members, with Chapecoense travelling across the continent for their Copa Sudamericana final against Atletico Nacional.
 The funerals of the Chapecoense players will take place later today, with Fifa president Gianni Infantino travelling to Brazil to attend after postponing his trip to Australia for the women's Under-20s World Cup, and thousands of fans have taken part in three days of national mourning across the country.
Brazilian clubs have already united to offer Chapecoense player on loan for free, while a request has also been made to rule them exempt from relegation for the next three years. However, the Brazilian Football Condeferation [CBF] have already caused controversy by ordering the club to play their final Serie A match of the season, according to current stand-in president Ivan Tozzo.
In an effort to help out the club, both Ronaldinho and former Argentina international Juan Roman Riquelme are reported to be willing to sign for the club and help them out in a desperate time of need.
Ronaldinho's agent and brother, Roberto Assis, confirmed that the former Brazil international is ready to help out the club in any way possible, though he did stress that no talks have been held as now is not the time to discuss football with the tragedy still fresh in everyone's minds.
"It is a very difficult time," Assis told Globo Esporte. "Later on, if there is a contact, we can talk.
"I can only say that we are here and we want to help.
"He (Ronaldinho) fits the profile, can be the right guy. But the moment is to help families and it would be (wrong) to create expectations for now. As Brazilians, we feel involved. We are together."
The crash has triggered emotional tributes across the world, none more so than in South America, where 45,000 fans turned out at Atletico Nacional's Atanasio Girardot Sports Complex stadium to pay tribute to Chapecoense on Wednesday night when they should have been playing in the first leg of the final.
Each Premier League match will see a minute's silence before kick-off this weekend with players also requested to wear black armbands, while recently-appointed Uefa president Aleksander Ceferin issued a statement to confirm the same gesture will go ahead before each Champions League and Europa League match next week as he offered his condolences to those who had lost friends, family and teammates in the accident.
"European football is united in expressing its deepest sympathy to Chapecoense, the Brazilian football confederation (CBF), Conmebol (the South American confederation) and the families of all the victims following this week's air disaster," Ceferin said.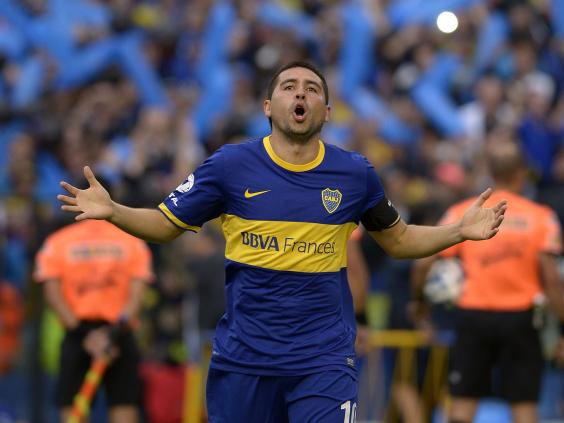 Juan Roman Riquelme retired in 2014 but is willing to help Chapecoense
"This tragedy has shaken the world of football, and we would like to send our support to all of those affected by it."
Source: www.independent.co.uk