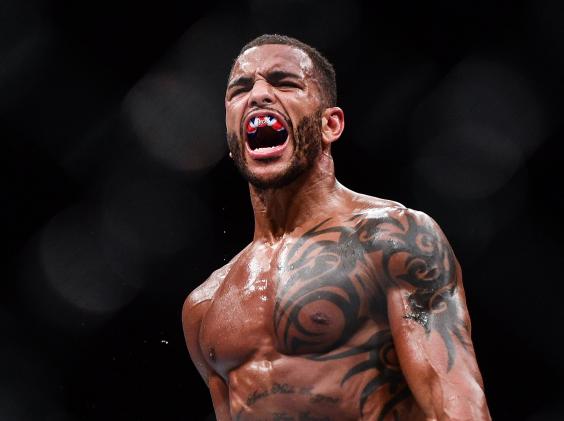 Interview: Roberts will now be fighting Nordine Taleb after original opponent Sheldon Wesctott suffered a late injury ahead of the UFC card in Winnipeg this weekend
British UFC welterweight Danny Roberts has shrugged off concerns a late replacement to his scheduled bout against Sheldon Wesctott will disrupt his rhythm ahead of UFC Winnipeg this weekend.
Westcott was forced to pull out of the fight with an injury, meaning Roberts will now face Nordine Taleb, a dangerous French veteran with a professional record of 13-4.
Roberts, 14-2, will be contesting his fifth UFC fight when he takes on Taleb and has said that he's just eager to get back into the Octagon, rather than worrying about the late change and the effect it will have on his fight preparations.
"Mindset wise there is absolutely no way that I am letting this late change rile me or worry me," Roberts told The Independent from his training camp in Winnipeg, for the UFC's second event in the Canadian city.
"There are so many different ways that you can look at something like this. To be honest, I really don't see Saturday night as anything different to another day in the gym, sparring and working hard. We all know that it's the MMA game and anything can happen, so all I can do is go in there and make sure that I do what I do best."
Roberts has had a busy first year in the UFC, since signing with the promotion late last year for a fight with Nathan Coy.
He won that bout in just two-minutes and 46-seconds with a triangle choke and went on to win his next fight too, defeating Dominique Steele via unanimous decision in a contest that was awarded Fight of the Night at UFC 197.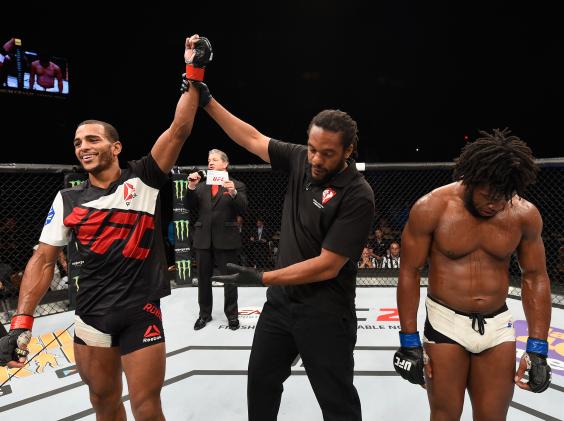 After that Roberts went on to lose his first fight in the UFC – and just his second loss ever – when he was knocked out by Mike Perry, but he bounced back with a knockout win of his own against Bobby Nash in July and he now hopes he can continue rising up the welterweight rankings in 2018.
"This is such a good opportunity for me that has come up late and really at the last minute," Roberts said.
"This guy has a lot of experience so a win will give me the jump that I need to really get me towards where I should be.
"And then after that I will be in a very good position for 2018, to really maintain that intensity and take three or four top fights against anybody in the top-20. I really want to start working through those names."
But before any of that – Roberts will need to survive the Winnipeg cold.
It should perhaps come as no surprise that a man who trains out of Florida with the nickname 'Hot Chocolate' is not a fan of the Canadian winter – where temperatures are currently as low as -13°C – and Roberts admitted that he has resorted to drastic action to keep himself warm.
"I haven't left the hotel yet!" he added.
"I have been walking around the hotel shivering, and mostly just staying wrapped up in bed with all of my bedsheets over me.
"It doesn't help coming from the Florida heat either, where it is so humid and warm all the time. Fortunately the hotel has very good training facilities so I'm more than good here."
Watch UFC Fight Night: Lawler vs. Dos Anjos live on BT Sport 3 from 10pm GMT on Saturday, December 16 or catch the Early Prelims exclusively on UFC Fight Pass from 9pm
Source: www.independent.com