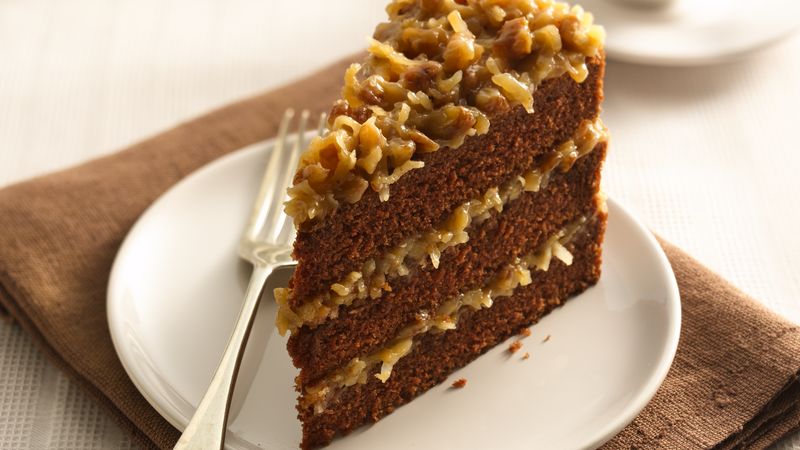 Ingredients:
Cake:
Carlini Canola Cooking Spray
1 cup Baker's Corner Real Semi-Sweet Morsels
¼ cup Baker's Corner Baking Cocoa
16.5 ounces Baker's Corner Yellow Cake Mix
3 Goldhen Large Eggs
½ cup Carlini Vegetable Oil
1 cup water
Frosting:
1½ cups Southern Grove Chopped Pecans
5 Goldhen Large Eggs, yolks only
12 ounces Baker's CornerEvaporated Milk
1 cup Baker's Corner Granulated Sugar
½ cup Baker's Corner Brown Sugar
2 teaspoons Stonemill EssentialsPure Vanilla
½ cup Countryside CreameryUnsalted Butter, cut into chunks
2 cups Baker's Corner Coconut Flakes*
*These are Seasonal items that are only in stores for a limited time and may no longer be available.


Prep Time:
25 minutes
Cook Time:
30 minutes
Total Time:
55 minutes


Servings:
8
Directions:                    
Preheat oven to 350°. Coat two 9-inch round cake pans with cooking spray.
For the cake: In a medium bowl, using the microwave, melt the chocolate chips in 30-second intervals. Stir in the cocoa. Reserve.
In a medium bowl, prepare cake mix according to package instructions, using eggs, oil and water. Fold in melted chocolate mixture. Divide the batter among the two pans.
Bake for 20-25 minutes, or until a toothpick inserted in the center comes out clean. Invert cakes onto a wire rack and allow to cool completely.
Arrange the pecans in a single layer on a baking sheet. Bake for 10-15 minutes, until toasted.
For the frosting: In a medium sauce pan, combine the yolks, evaporated milk, sugar and brown sugar. Cook over medium-high heat, whisking constantly. Once the mixture begins to boil and thicken, continue cooking for 4-5 minutes. Remove from heat and add the vanilla and butter. Stir until combined. Allow to cool completely.
Add the pecans and coconut, stir until thoroughly combined. Plate one cake round, spread half the frosting over the top only. Add the second cake round, followed by the second half of frosting.
Source: www.aldi.us