The Football Association of Wales (FAW) has begun disciplinary action against its chief executive Jonathan Ford for saying the next Wales manager could be "foreign", but "definitely not English".
The FAW has set up a three-person panel to investigate a BBC Sport Wales interview in which Ford said: "We have always favoured Welsh people because arguably the passion is there.
"Somebody said this earlier, Welsh most definitely, foreign possibly but definitely not English."
The interview, at the Wales Sport Awards, was discussed at an FAW council meeting when Ford was asked to leave the room.
A disciplinary panel will meet to question Ford on the matter, though he is working as normal as Wales look to replace Chris Coleman, who departed following the failure of the national team to qualify for the 2018 World Cup finals in Russia, next summer.
Ford declined to comment when contacted by BBC Sport Wales.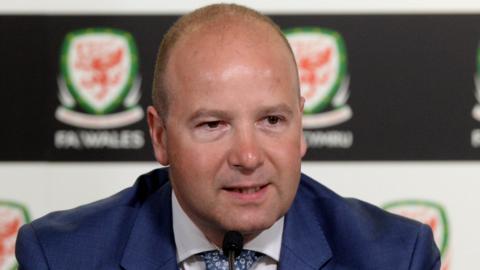 Ford's tenure
Ford was appointed to the role in 2009 and has a marketing background.
He has been widely credited with lifting the FAW's profile and increasing turnover.
Coleman led Wales to their first tournament finals when the national team reached the semi finals of Euro 2016.
During Ford's tenure, Wales has staged its first Uefa competition with the European Women's Under-19s tournament in 2013 before hosting the prestigious Super Cup in 2014.
In the summer Cardiff staged the 2017 women's and men's Champions League Finals.
Ford will still lead the search for Coleman's successor, with a six-man panel looking to sift through the candidates with a view to appointing a new manager by the end of January, 2018.
Roberts, Giggs, Bellamy, Hartson
Coleman's assistant Osian Roberts, plus ex-Wales strikers Craig Bellamy and John Hartson and Ryan Giggs have all expressed their interest in taking over.
Former Wales and Manchester United forward Giggs has been long admired by the FAW, while Welshman Tony Pulis – sacked as West Bromwich Albion manager last month – is also among those linked with the post.
Ford believes the Wales job has become an attractive proposition following Coleman's successful Euro 2016 campaign.