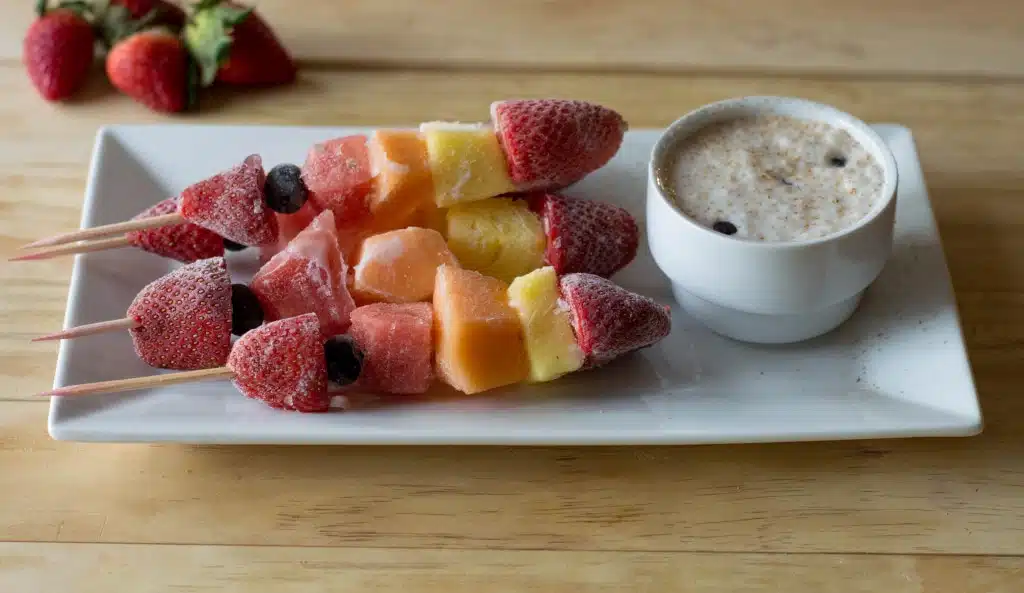 Strawberries, pineapple chunks and bananas are soaked in orange juice and honey, then coated with shredded coconut and chocolate and served frozen on a stick. A spectacular treat on a hot summer evening, these fruit kabobs are proof that some desserts are as tasty as they are good for you.
Ingredients:
1/4 cup orange juice
2 tablespoons orange blossom honey
16 medium strawberries
16 fresh pineapple chunks
2 bananas, sliced
1/4 cup unsweetened shredded coconut
1/4 cup finely grated or shaved chocolate
Method:
Line a baking sheet with parchment paper. In a large bowl, stir together orange juice and honey. Add strawberries, pineapple and bananas and toss to coat. Thread fruit onto 8 wooden skewers in any order you like.
Place coconut and chocolate on separate large plates or combine them on one. Roll kabobs in coconut and chocolate, using your fingers to help coat fruit if needed. Place kabobs on the prepared baking sheet, cover and freeze until fruit is completely firm, at least 2 hours or up to 3 days.
Nutritional Info:
Per Serving: 160 calories (60 from fat), 6g total fat, 4g saturated fat, 5mg sodium, 31g carbohydrates, (4 g dietary fiber, 23g sugar), 2g protein.
Special Diets:
Gluten Free
Low Sodium
Vegetarian
Wheat Free
SOurce: www.pinchofyum.com