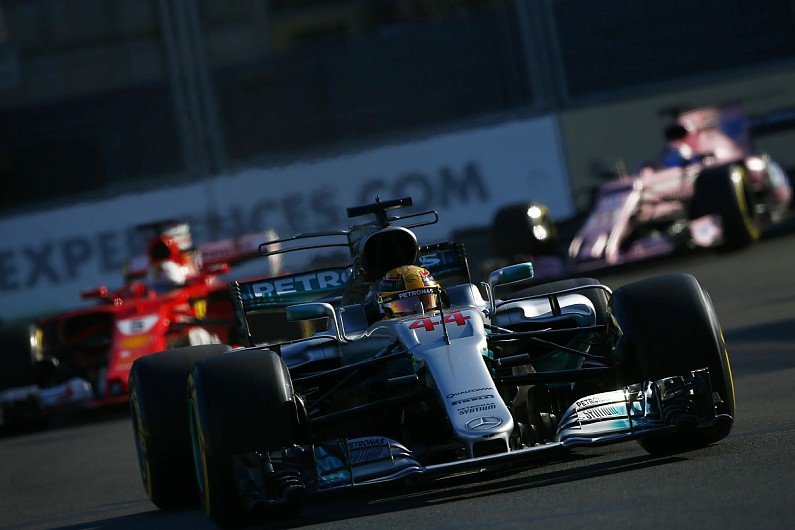 Lewis Hamilton says Sebastian Vettel "disgraced himself" by swerving and hitting him under the Formula 1 safety car during the Azerbaijan Grand Prix.
Hamilton and Vettel were running first and second ahead of a restart when Ferrari driver ran into the back of the Mercedes at the exit of Turn 15 and accused his title rival of brake testing him.
Vettel threw his hands into the air before pulling alongside Hamilton and then swerving right, making wheel-to-wheel contact with the Mercedes driver and later earning a 10-second stop/go penalty for the incident.
"Driving alongside and deliberately driving into another driver and getting away pretty much scot-free as he still came fourth, I think that's a disgrace," said Hamilton.
"I think he disgraced himself today."
Hamilton believes this sets a bad precedent both within F1, and for younger drivers climbing the ranks.
"It definitely sets a precedent within F1 and it also does for all the young kids that are watching us drive and conduct ourselves," said Hamilton.
"They've seen today how a four-time champion behaves. Hopefully that doesn't ripple into the younger categories."
Vettel finished fourth, with Hamilton fifth after an extra pitstop to repair a loose headrest.
When Vettel's suggestion that he had been brake tested was put to him, Hamilton insisted that he did not and that the Ferrari driver was at fault.
"I didn't, I controlled the pace," said Hamilton.
"Like all the other restarts, I slowed down in the same spot. He was obviously sleeping and drove into the back of me. That wasn't, for me, an issue.
Source: www.autosport.com