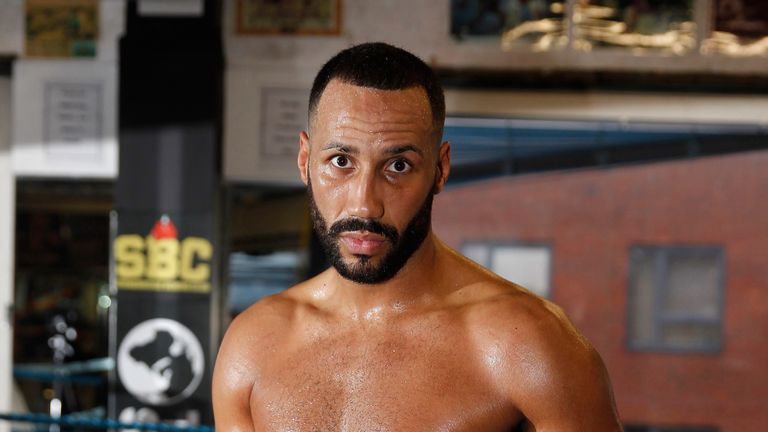 When DeGale reflects on this bloody defeat he will have to ask himself just how much is left and how badly he still wants to fight
After a quick visit to a hospital, after twelve torrid rounds and after losing his beloved world title belt it is safe to say that James DeGale knows that fairytales are rare in the boxing business and that his homecoming was horrible.
His fight on Saturday night at the CopperBox against Caleb Truax, a safe guy he personally selected, was lost in round five when his bad habit of sitting on the ropes backfired in a bloody and brutal way. The final decision a few rounds later, one judge gave a draw and the other two went for the American, was only confirmation of the suffering in round five and DeGale was left utterly shocked at the end. He looked like a ruined shadow, a bloodied and unsteady ghost of the boy from the Beijing Olympics with the gold medal and the endless hopes.
DeGale, now 31, was rocked by the same punch, a nasty right uppercut, several times in the fifth and as his senses temporarily deserted him, his shattered nose started to bleed, smearing his face and blocking his throat simultaneously. It was uncomfortable viewing from ringside as Truax's punches sent the dark blood spraying all over the ring, often with DeGale teetering in the direction of the flying blood.
It was DeGale's first fight in Britain for three years after four world title fights on the road and his remaining splendid ambitions looked achievable in the first four rounds; Truax was trying to force the pace but DeGale slipped, hit, slid, hit again and was not in trouble or under threat until the start of the fifth round. Truax failed to finish it in the fifth and DeGale survived but he was in a savage scrap, his nose busted and his right shoulder, which went under the surgeon's knife in the summer, suddenly looking like an increasingly lame appendage, there for little more than an occasional block and an even rarer stiff jab. DeGale insisted after the fight that the shoulder was fine, which is probably true from a medical perspective, but he never used it like he once did; instead, as the gruelling fight got harder, he simply tapped it out, pushing it out with no power and seemingly having no confidence in the fix.
"I will have to sit down and look at everything, look for what went wrong," said DeGale at the end. He seemed totally confused when it was over, lost for an explanation for his lack of timing, sharpness and vanished ring craft: Truax looked unstoppable in some rounds and so easily beatable in others. It was a strange fight and not a fight that can be easily explained or excused without a thorough examination of all the factors involved in the shock. It might seem harsh to say but Truax wins the 2017 prize as the right man, in the right place, at the right time. He deserved the decision, but it was certainly not a massacre.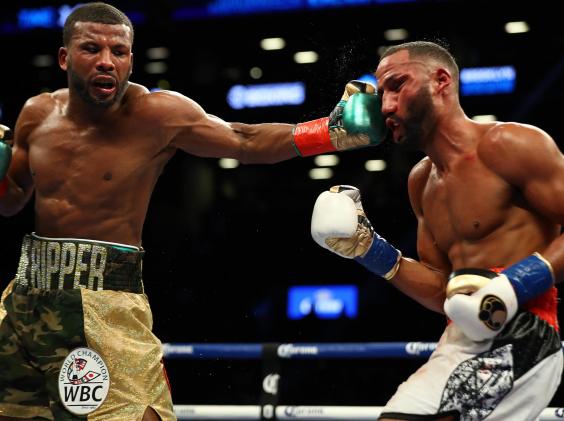 So DeGale lost far more than his IBF super-middleweight belt in the ring in east London, he lost his right to scream for big fights, his right to claim he is better than either Chris Eubank Jr or George Groves, both bitter rivals and both holding versions of the world title. His nose is damaged and he has to go back when the swelling has subsided, his belt is gone but the real loss was the luxury of bragging rights. The snowy Sunday morning held savage appraisals from both Groves and Eubank Jr, who incidentally fight each other in February. It can be cruel falling short of a destination your big mouth has predicted. Nobody predicted the Truax calamity and some bookies offered as deep as 46-1 on the American winning.
DeGale wants and deserves a rematch, which is like a tiny irrelevant speck at the moment. He needs to look at what motivates him now, try to solve the mysteries of his deserted form, which he insists was there before walking to the ring, and, when the physical damage has healed and when a new fight is in place, he will have to ask himself just how much is left and how badly he still wants to fight. The answers to those two naked questions are never easy if a boxer, a fallen golden boy like DeGale, has to ask them in the first place. The fight against Truax was a disturbing glimpse at a possibly horrible future.
Source: www.independent.com