Overton will be assessed by England's medical team on Saturday morning after aggravating the rib injury picked up in Adelaide
Craig Overton will be assessed by England's medical team on Saturday morning as his chances of featuring in the rest of the third Ashes Test remain in the balance. Overton aggravated an existing rib injury when he dived for a tough caught-and-bowled chance on the second morning, and although he carried on bowling, he left the field a short time later and did not return.
The rib was initially heavily bruised in Adelaide, when Overton ducked into a rising delivery from Pat Cummins while batting, and the following day he was still in some pain. England have decided against sending him for a scan immediately and instead will make a call on his fitness ahead of day three.
England's chances of forcing a positive result in the game will clearly be impacted if they are a bowler light, but centurion Jonny Bairstow insisted that they still had the firepower to take 20 Australian wickets.
Ashes third Test in pictures
"They obviously took six wickets in the morning session," said Bairstow. "The wicket's offering a decent amount as well. If we get it in the right areas, with the skills the boys have shown throughout the series, there's no reason why we can't do the same."
"It's an interesting state of play. Those first two sessions tomorrow, we need to keep the Aussies behind us for as long as possible. You want Paine, Starc, Cummins coming in against our guys when they're still fresh. The crack on the crease was a good half an inch wider than it was last night. Over the next couple of days it might offer a bit more turn. It's done enough for us to get 20 wickets in this Test match."
Bairstow said that England have not run out of ideas to Steve Smith, after the Australian captain hauled them back into the match with an unbeaten 92. Smith's flawless innings will resume on day three with Australia just 200 behind, but Bairstow said that England would persist with their plans to him.
"He played well, didn't he?" Bairstow admitted. "He's a good player. There's different approaches. He got a decent piece of that one down to fine leg [a hook off Stuart Broad]. Another day, that flies straight into the hands. He doesn't miss many, but there were a few that he inside-edged."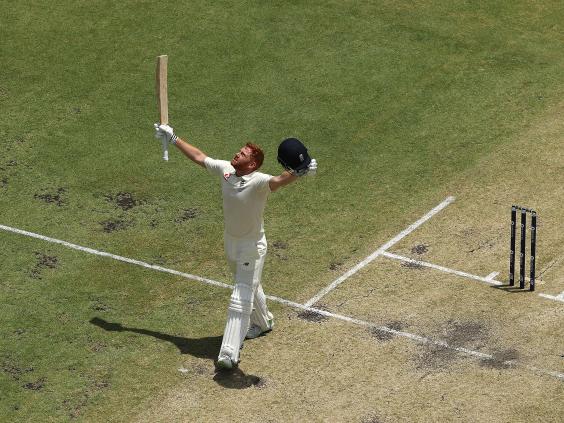 It was a special day for Bairstow on a personal level: a fourth Test hundred, and a first in the Ashes, in his 12th Test against Australia. "In many ways, this was my favourite one," he said. "To score an Ashes hundred is something that you dream about as a kid. You want to look back in the archives and tell your grandkids you made an Ashes hundred at the WACA. It's eluded me until now, and so a whole heap of emotions came running through."
Bairstow also revealed that his celebration – headbutting his helmet as a reference to recent media reports over an incident with Cameron Bancroft in a Perth bar – was spontaneous rather than planned. "I'd not thought about it," he said. "It was a bit of light-hearted fun with everything that's gone on, which is exactly the spirit in which it should be taken."
Source: www.independent.com