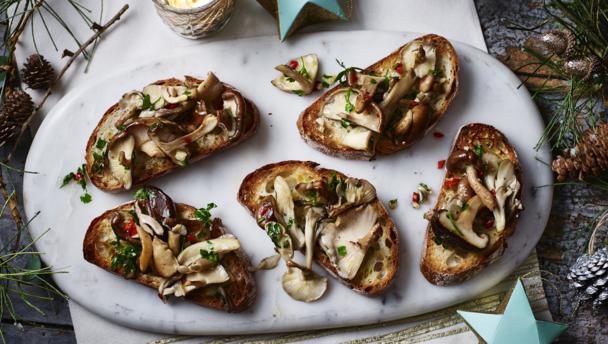 These crostini would make a delicious start to a dinner party – try to use a mixture of wild and cultivated mushrooms if you can.
Ingredients
8 tbsp olive oil
2 garlic cloves, 1 peeled, 1 finely chopped
1 small red chilli, finely chopped
400g/14oz mixed mushrooms, chopped
1 tbsp coarsely chopped fresh flatleaf parsley
1 tbsp fresh marjoram leaves
salt and freshly ground black pepper
8 slices Pugliese (or sourdough) bread
Method
Heat six tablespoons of the olive oil in a frying pan, fry the chopped garlic and chilli for one minute, then add the mushrooms and fry for a further 2-3 minutes, or until cooked.

Stir in the parsley and marjoram and season with salt and freshly ground black pepper.

Meanwhile, toast the slices of bread on both sides. Rub each piece of bread lightly with the whole garlic clove and brush with the remaining olive oil, then slice into individual servings if needed. Spoon over the mushrooms and serve.
SOurce: www.bbc.com