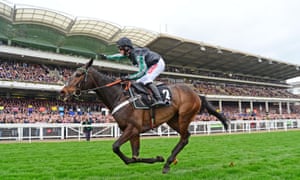 '); hiddenDoc.close(); })();
{"uid":1,"hostPeerName":"https://www.theguardian.com","initialGeometry":"{\"windowCoords_t\":0,\"windowCoords_r\":1366,\"windowCoords_b\":728,\"windowCoords_l\":0,\"frameCoords_t\":3540,\"frameCoords_r\":1285.5,\"frameCoords_b\":3790,\"frameCoords_l\":985.5,\"styleZIndex\":\"auto\",\"allowedExpansion_t\":377,\"allowedExpansion_r\":25.5,\"allowedExpansion_b\":31,\"allowedExpansion_l\":985.5,\"xInView\":1,\"yInView\":1}","permissions":"{\"expandByOverlay\":true,\"expandByPush\":false,\"readCookie\":false,\"writeCookie\":false}","metadata":"{\"shared\":{\"sf_ver\":\"1-0-14\",\"ck_on\":1,\"flash_ver\":\"0\"}}","reportCreativeGeometry":false,"isDifferentSourceWindow":false,"goog_safeframe_hlt":{}}" scrolling="no" marginwidth="0″ marginheight="0″ width="300″ height="250″ data-is-safeframe="true" style="border: 0px; vertical-align: bottom;">"You feel like a steamroller has hit you. But you get up on Monday morning and lead your gallant men back into battle. Some of them are mortally wounded because they live with them. Those horses were two of 140 for me, even if they were very special. Sprinter was the nearest thing you'll come to heaven for me. I adored Simonsig. Losing him was awful and you think: 'That's it. Do I really need to do this?' Yes – because there are people far closer to both horses than me."
The King George means a great deal to Henderson which explains why he turns up at this media day, near Lambourn, organised by 32Red – the race sponsors. "As a kid [who went to Eton] Arkle was my legend and he finished his career in the King George. I won it twice with Long Run. We don't have Classics as they do on the flat. We've just got our Group One races – but some mean more than others and the King George is a Classic.
"I also love Kempton. I rode my first winner there and I was the worst amateur ever. Abbey Warrior was trained by Fred Winter and it was 33-1. Fred Winter never had a horse at 33-1 before. The only reason was because the man on top was so bad. I hadn't got a clue but he won. I was 21 and look where we are now."
Henderson was earmarked for a career in stockbroking but he loved horses – as his parents did. "My mother died three weeks after my first winner. She was killed in a hunting accident aged 48 – but at least she saw me ride a winner. She loved the horses and probably knew I was never going to finish up in the City. Dad said to me thousands of times how much mum would have enjoyed [Nicky's success]."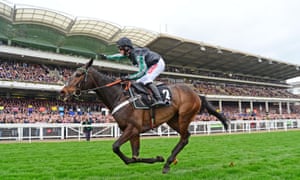 It's time to ask Henderson about Altior. I start gently and suggest that the fact questions were put to him did not imply he was taking advantage of the situation himself. Surely the fundamental point is that racing's integrity needs to be protected. "I've looked after the press better than anybody. And one or two questioned whether I was actually telling the truth. That hurt me like hell. We could not have done anything else over Altior. I promise you. Until you spend a day in a racing stable and understand what goes on, are you licensed to write about it? Otherwise you've got to take it as we tell it because you haven't got a clue. They've never mucked out a box in their life. They wouldn't know the difference between a forearm and the foreleg."
In regard to not mentioning the whistle heard in Altior's breathing five days earlier, Henderson points out that horses make many noises. "The next day [after the controversy] I was going to write a report on every horse and say, 'Print it.' Every single horse would have had a comment."
There was a time-lag between Altior drifting in the betting and Henderson releasing his Unibet statement that evening. But the key point, from Henderson's perspective, is that he issued the statement as soon as he was clear in his own mind about Altior's health. "There was none, there was zero time lag," he says. "Absolutely zero."
When I suggest the lag between odds lengthening and his statement was more than two hours, he responds angrily: "It wasn't possible to do it any quicker."
This reflects Henderson's focus being primarily on the well-being of Altior. But many observers believe all trainers ought to react more quickly when informing the public about problems affecting their horses – as a way of protecting the popularity of racing.
Henderson highlights similar cases – while asking me to leave out the names – and argues that others have not been questioned in the same way. "I was open and said exactly what happened. JP McManus [the racehorse owner] said: 'Say nothing. It's so much easier.' I paid the penalty for talking. The penalty now will be that I will never talk again. I will say nothing."
He picks up his jacket and prepares to leave. But I cannot believe the garrulous trainer will take a vow of silence. Does he regret saying that Altior was "totally on target" for the Tingle? "Whatever I tell you is 100% truthful. From now on I will do it through my Unibet voice. I will do my blogs for them but talk to nobody else. The press have beaten me to bits. They've tried to undermine my credibility. It's like they didn't believe me. So i.e. they're calling me a liar. But one or two people are dead meat."
Henderson sounds like The Godfather so to cheer him up, before we return to more serious questions of how appropriate protocols can be introduced to avoid this fiasco happening again, I ask him about Altior.
"The horse is 100%," the 65-year-old says brusquely. "He's had an operation. There we go – but that's not the subject we're discussing. The press room really disappointed me. Print. Print! Print! That's a quote. I can be disappointed with results, I can be disappointed with horses. But I've never been so disappointed with people as the media and how they treated me."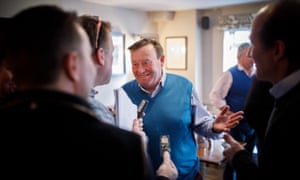 Yet, before we began our interview, I had watched Henderson being his usual convivial self with racing journalists. "Sure," he snorts, "but get on to that subject and you'll get me."
He must understand that, in a detailed interview, I am compelled to ask about Altior? "You are – but print what I said. Look how the press treated me. Some of them were, quote, 'appalling'. I'm embarrassed to know them."
Henderson makes it clear the interview is over by standing up.I would like to ask some more questions but he is intent on stressing that his media interaction has ended. "It's over."
He accepts my handshake but looks away. We then walk straight into a photographer. He is an old pro, of course, and so Henderson stalks away to do a photo shoot. He ends up smiling – perhaps because, as our photographer suspects, Henderson does not know it is for the Guardian. Yet it is likely, especially if Might Bite wins the King George, that Henderson's media silence could be broken by festive cheer – and one day we might all find a way to calmly discuss the case of Altior, and many other horses, without angry recrimination.
Source: www.theguardian.com