The shock of Rosberg's decision soon made way for an understanding that here was a delighted world champion achieving his childhood dream, no longer willing to put his life in danger
Nico Rosberg announced his shock retirement on Friday five days after winning the world championship
Rarely does 'breaking' actually mean breaking when it comes to sport news these days, given that word is churned out so regularly for events that are planned well in advance. Yet every now and then a story hits home that leaves you so stunned you don't know what to say. Nico Rosberg's retirement from Formula One on Friday did just that.
Plenty of F1 world champions gone before him will still have been knee-deep in alcohol-enthused celebrations after winning their first world championship, and Rosberg certainly lived up to that reputation with what was supposed to "one of the best" last Sunday.
 But come Monday he was on a plane to the Far East with Mercedes boss Toto Wolff to be paraded in front of the Petronas staff that have backed the Mercedes campaign, or so we thought. What actually happened is that the newly-crowned 2016 world champion decided he was not going to honour the two-year contract he signed in July this year, and that he had decided to retire.
And fair play to him.
When you achieve a true childhood dream like Rosberg did in Abu Dhabi, how do you top it? If, like Lewis Hamilton, you've got the desire to emulate your hero in winning three world championships just as Ayrton Senna did, then you focus on the year ahead and try to repeat your success.
But Rosberg's aim was to match his father, Keke, and become a world champion, and he can live the rest of his life knowing he did dad proud. Another big factor here is that Rosberg has a young family now, and despite soaking up the joy and the champagne in equal measure that came with victory last weekend, Vivian Sibold and Alaia Rosberg, his wife and 15-month-old daughter respectively, will be much happier to have him back home.
It also needs to be remembered that this generation of F1 drivers are fully aware of the dangers that the sport poses. After more than 21 years without a death in the formula, Jules Bianchi succumbed to his injuries sustained in the Japanese Grand Prix in October 2015 after spending nine months in a coma. Suddenly, a grid that had not seen a death in the sport during their careers were burying their colleague, their friend, one of their own.
The initial feeling that came with Rosberg's announcement was one many others will have had: he's bottled it. Had Hamilton not endured his well-documented reliability failures this season, there would almost certainly be a different man on top of the 2016 standings and Rosberg would still be a racing driver, still aiming to win his first title.
There must be a part of Rosberg, however small, that knows he is very unlikely to repeat his success next season if Hamilton has anything close to a clean year in the engine department, and on his day, Rosberg knows Hamilton is currently unbeatable.
So he bottled it, and decided to bow out on top rather than defend and risk losing his title. But then it struck home. No one bottles it when they run through Eau Rouge at speeds close to 200mph. No one bottles it when they are so determined to win that they will drive wheel-to-wheel with their teammate-cum-rival to the point of no return and cost their employers dearly in order not to concede any ground in the title battle.
No one bottles it when they climb into the cockpit in Formula One.
Certainly Rosberg didn't bottle it, and for that I commend him. He can enjoy his success with his family in peace, and the incredible pressure of facing Hamilton in a title battle removed with his decision. The only sadness is that we won't see another year of two drivers so intent on beating each other that they will do anything within their power to achieve it. Or will we?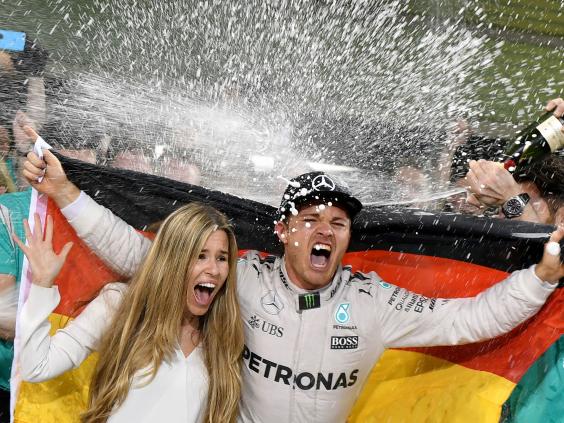 Rosberg's family is a key influence behind his decision to retire
As always, the F1 circus goes on, and no sooner had Rosberg sat down after making the biggest decision of his career than motor racing fans swarmed to the internet to find out his replacement. Mercedes may live up to their word and go after a big name to really push Hamilton next season, while test driver and favourite for the seat, Pascal Wehrlein, would certainly warrant it after a stand-out rise through DTM and Manor F1 last season.
But before we find out, just take a minute to credit Rosberg for what he was, a true fighter of the sport.
Source: www.independent.co.uk