A whole head of cauliflower can be sliced to create several large "steaks." Roasting these cauliflower steaks along with the remaining florets is a fun and different way to enjoy this favorite seasonal vegetable
Ingredients:
1 tablespoon lemon juice
2 cloves garlic, crushed with a press
1 head cauliflower
2 tablespoons fresh parsley, finely chopped, for serving
Method:
Preheat the oven to 375°F. Line a baking sheet with parchment paper.
Combine lemon juice and garlic in a small bowl. Cut center of head of cauliflower lengthwise into 3/4-inch-thick slices. Arrange on the prepared baking sheet in a single layer. Cut remaining cauliflower into 1-inch-thick pieces and scatter around cauliflower steaks. Brush cauliflower with lemon juice mixture. Roast 40 minutes or until golden and tender.
Sprinkle with parsley and serve.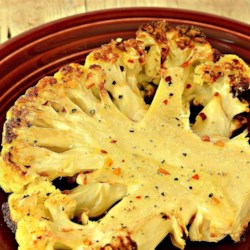 Nutritional Info:
Per Serving: 40 calories (0 from fat), 45mg sodium, 8g carbohydrates, (3 g dietary fiber, 3g sugar), 3g protein.