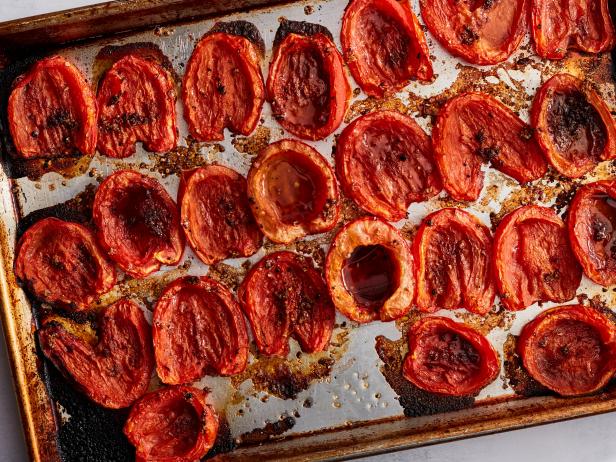 DIFFICULTY1/5
PREP TIME5 MINS
COOK TIME3 HRS
SERVES2 – 4
For a perfectly balanced meal, accompany your main meat event with this delicious, colorful, & healthy side dish.
INGREDIENTS
3 LARGE

RIPE TOMATOES

2 TBSP

KOSHER SALT
1 TBSP

COURSELY GROUND FRESH PEPPER

2 TSP

SUGAR
2 TSP

THYME OR BASIL

OLIVE OIL
PREPARATION
Line a rimmed baking sheet with parchment paper.
When ready to cook, start the Traeger on Smoke with the lid open until a fire is established (4-5 minutes). Turn temperature to 225 degrees F and preheat, lid closed, for 10 to 15 minutes.
Remove the stem end from each tomato and cut the tomatoes into 1/2-inch thick slices.
Combine the salt, pepper, sugar, and thyme in a small bowl and mix.
Pour olive oil into the well of a dinner plate. Dip one side of each tomato slice in the olive oil and arrange on the baking sheet.
Dust the tomato slices with the seasoning mixture.
Arrange the pan directly on the grill grate and roast the tomatoes until the juices stop running and the edges have contracted, about 3 hours. Enjoy!
Source: www.traegergrills.com