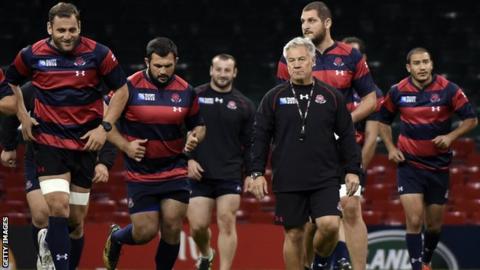 Georgia head coach Milton Haig believes his side merit a place in an expanded Six Nations Championship, and says Tier Two nations are "fighting for scraps" in the battle to earn fixtures against top opposition.
Haig's side have won the past six European Nations Cup (ENC) titles – the division below the Six Nations – finished third in their 2015 World Cup pool and completed an unbeaten Pacific Islands tour this summer.
There is no imminent prospect of a change to the Six Nations format, despitealterations to rugby's international calendar after the 2019 World Cup.
But Haig believes the status quo is hampering Georgia's development, and their World Cup preparations.
"Absolutely, we've outgrown the ENC," Haig told BBC Scotland. "You're not being disrespectful to the other teams – you're saying the obvious.
"That's why we've started being public about our desire to get into an expanded Six Nations. Not a promotion/relegation system, that's never been our standpoint, it's always been that the Six Nations gets expanded to seven or eight teams, depending on what the current partners feel is applicable."
The New Zealander argues:
Georgia, ranked 12th in the world, are struggling to take their development to the next level without regular Tier One opposition
Expanding the Six Nations from six to seven teams would not exceed the window for international matches
There is a "massive potential market" for rugby in eastern Europe
Haig also says the Georgian union has been approached by Pro12 league to discuss the incorporation of a professional Georgian team
And with the backing of a billionaire former prime minister, he believes Georgian rugby boasts facilities unrivalled anywhere in the world
'Fighting for scraps'
Almost every Tier Two nation agitates for more frequent fixtures against the Six Nations and Rugby Championship heavyweights, but Georgia's case for greater challenges is compelling.
The glaring extent of their supremacy in the ENC can be outlined thus: in the last six championships, they've lost just two matches from the 30 played. Their cumulative points difference reads: for 948, against 264.
Georgia have lost only once since last year's World Cup – a narrow defeat by Japan – and completed an unbeaten Pacific tour of Tonga, Fiji, and Samoa this summer. Last weekend, they beat the touring Samoans in Tbilisi.
A Tier One nation has never played a Test in Georgia, and outside World Cup pool matches, their fixture with Scotland on 26 November will be only the fourth time in 13 years the Lelos have had the opportunity to pit themselves against top-class opposition.
"How can you improve [in that situation]? You can't," says Haig.
"The Test schedule for the Tier Ones is already done up to 2019, and the big boys sit around the table and work out a deal.
"Effectively there are a couple of weekends free to be filled with Tier Two teams. Then we go to a meeting, all the Tier Two guys go into a room and everybody scraps over what's left.
"We all have fisticuffs about who's getting what. I'm being facetious to some degree, but that's not too far away from what happens.
"It's not easy – that's the summary of that conversation. It's just not easy for Tier Two teams to get more than one or two Tests every year against Tier One teams.
Source: www.bbc.com