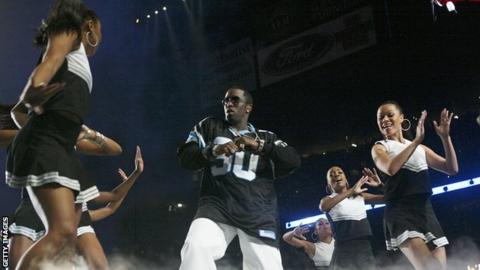 American rapper Sean 'Diddy' Combs and basketball star Stephen Curry want to take over NFL team Carolina Panthers.
The franchise has been put up for sale by owner Jerry Richardson who is facing allegations of workplace misconduct.
Combs said he wants to be the NFL's first African-American majority owner and would make hiring free agent Colin Kaepernick his first task.
Kaepernick, 29, has been without a team since launching a protest movement campaigning for equal rights.
Combs expressed his desire to buy the Panthers on social media, prompting Golden State Warriors' point guard Curry responded to say he wanted to join the takeover.
Current owner Richardson announced his intention to sell the team after the NFL launched an investigation into the claims against him.
While declining to comment on the nature of the allegations, the franchise said it was "committed to ensuring a safe, comfortable and diverse work environment where all individuals, regardless of sex, race, colour, religion, gender, or sexual identity or orientation, are treated fairly and equally".
The 81-year-old, who is a former NFL player, has been a majority owner of the Charlotte-based team since it began playing in the NFL as an expansion franchise in 1995.
Combs, who is valued at $820million and has won three Grammy Awards, asked his followers to "spread the word" and said it was "time for diversity" in the sport.
Curry, 29, is a two-time most valuable player in the NBA and has been a member of two championship-winning Golden State teams.
Kaepernick's national anthem protest has seen him without a team since he opted out of his contract with the San Francisco 49ers in March.
The quarterback filed a grievance against NFL team owners in October   stating he believes they are conspiring not to hire him because of his protests.
His stance has since won the support of many players from different teams kneeling or staying in the locker room during the national anthem, and the issue has become a divisive one in the sport – critics have included US President Donald Trump.
One of the NFL's main sponsors, pizza company Papa John's, even blamed the actions on lower than expected sales.
However, Combs said it would be his aim to get Kaepernick on board "immediately", although the NFC side's current quarterback Cam Newton is one of the stars of the league,
The Panthers beat the Green Bay Packers 31-24 on Sunday with two games left in the regular NFL season.