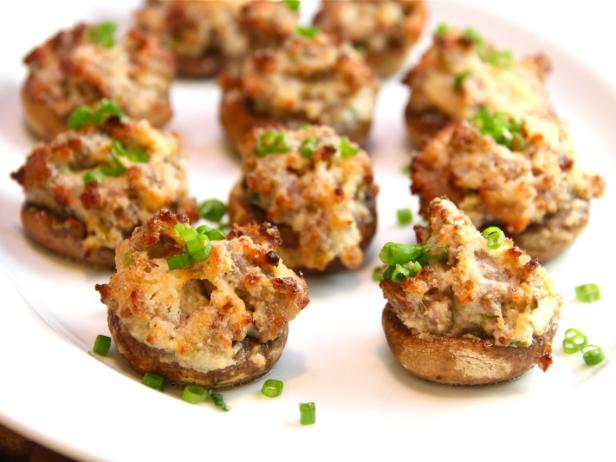 At first, they seem so humble. Plain in color, small in stature, dirty around the gills. But dress them up just a little and they will be the biggest hit at your next party. I'm talking about mushrooms, of course, stuffed mushrooms after their transformation. Those simple, little woodland growths that, like a runway waif, provide the perfect canvas for any dressing you choose to bestow upon them. Whether it's inexpensive toppings such as cheddar and bacon, or luxury ingredients like crabmeat or Stilton, the modest mushroom turns into a delicious stuffed mushroom, the perfect appetizer for your next party.
Creamy Stuffed Mushrooms

 Creamy Stuffed Mushrooms with Cream Cheese and Garlic. Donna Pilato

If the smell of these mushrooms when they first come out of the oven wasn't enticing enough, the first taste of them will have your guests fighting for seconds. These delicious mushrooms are filled with a garlicky cream cheese mixture that makes them addictive.

Mom's Best Italian Stuffed Mushrooms

 Photo of Mom's Best Italian Stuffed Mushrooms. Donna Pilato

These delicious stuffed mushrooms pack a lot of earthy flavor for a meatless recipe. The combination of garlic, cheese and other Italian style seasonings create a filling that will have your guests asking for the recipe.

Sausage Cheese Stuffed Mushrooms

 Sausage Cheese Stuffed Mushrooms. Peggy Trowbridge Filippone

These rich and tasty mushrooms will be a decadent treat for your guests. They're suitable for your holiday meals and other special occasions. This recipe from Home Cooking Guide Peggy Trowbridge Fillipone combines sausage, cream cheese, parmesan cheese, onion and other ingredients.

Stuffed Mushrooms with Ham

 Stuffed Mushrooms With Spinach and Cheese. Diana Rattray

This easy and tasty recipe also includes a healthy amount of spinach with the ham and butter, making this a very delicious way to eat your greens. Southern Food Guide Diana Rattray shows us how to make stuffed mushrooms, southern style, in a dish that's sure to become a hit with your guests.

 Crab Stuffed Mushrooms. Diana Rattray

These over-stuffed mushrooms will kick off a summer party as well as a holiday feast. With the bits of red bell pepper, they can look as festive as they taste delicious. Your guests will enjoy the seafood spin on this classic appetizer from Southern Food Guide Diana Rattray.

Escargot Stuffed Mushrooms

Lauri Patterson/Getty Images

You can fool your guests into believing you slaved all day to prepare this appetizer for them. But French Food Guide Rebecca Franklin tells us how to make this very French dish quickly and easily. Then you can sit back, savor the delicacy and the compliments at the same time.

Alison Bowie/EyeEm/Getty Images

This is a simple, easy variation on the classic stuffed mushroom recipe. Diana Rattray, Guide to Southern Food tells us how to combine breadcrumbs, cheddar cheese, green onions and spices to make these mushrooms appealing for party guests of all ages.

Fabulous Stuffed Mushrooms

Armstrong Studios/Photolibrary/Getty Images

This very easy recipe from Diana Rattray, Southern Food Guide, is made addictive by the blue cheese mixed into the filling. An added bonus is the ingredients for this great appetizer will be easy to find in your local supermarket.

Stuffed Marinated Portabella Mushrooms

HighImpactPhotography/Getty Images

Leave enough time to prepare this hearty mushroom appetizer dish. The mushrooms will need time to marinate in the herbal vinaigrette plus you'll need time to prepare the delicious stuffing that includes prosciutto and herbs. But it just may become a favorite despite the effort required.
Source: www.thespruce.com