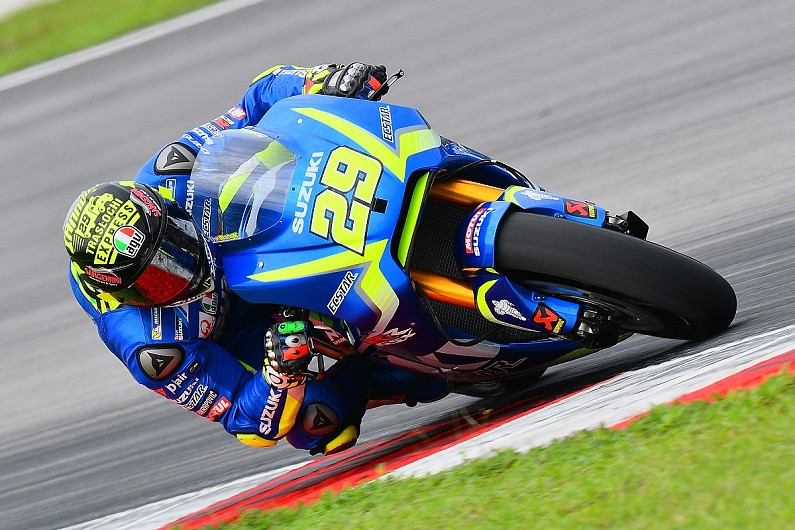 Andrea Iannone says Suzuki exceeded its own expectations during the Sepang pre-season MotoGP test, after recording the second-fastest time.
The former Ducati rider set the pace on the second day of running at the Malaysian Grand Prix venue with a 1m59.452s, which was only bettered by Yamaha's Maverick Vinales on the final day.
Iannone wound up 11th fastest on Wednesday as he chose to focus purely on longer runs, and also crashed twice.
Despite the incidents, Iannone was encouraged by the test, and believes Suzuki can make more gains with its electronics.
"Our tests went well, beyond expectations," said Iannone.
"We are learning a lot with every change we make.
"At Sepang we started to change the set-up of the bike, and it responds well every time.
"We didn't change the chassis, this is perfect actually.
"Despite that, Suzuki knows that the engineers must work on electronics and some [other] little components of our bike.
"Those can be a great improvement for us, and I hope to have that before the start of the season."
Iannone's new team-mate Alex Rins ended up 12th on the combined order in his first outing since injuring his back in a crash during his maiden MotoGP test, at Valencia in November.
The Moto2 graduate impressed Suzuki's technical manager Ken Kawauchi with his "improvement and honesty", and was upbeat about his progress.
"I'm very happy about the three days and especially with Wednesday," said Rins.
"I've drawn a lot of conclusions about how the bike handles.
"I had never worked with so many used tyres, but the time was also there when I ran with the new tyres.
"The most important thing is that I'm finding the limits of the bike.
"After Monday I thought I wouldn't be able to cope with Tuesday and Wednesday, because my back was a bit sore.
"But I've finished pretty fresh and that means that we have worked well during the pre-season."
Source: www.autosport.com