Now that 2017 has come and gone — and the 2018 boxing calendar really doesn't kick in for a couple of weeks more — here's my view of the most significant stories and events of the past year.
Canelo-GGG finally throw down
In what was a terrific year for boxing with numerous significant and exciting fights month in and month out, there was no bout boxing fans anticipated more than the showdown between unified middleweight world champion Gennady Golovkin and former champ Canelo Alvarez.
And we finally got what we wanted — for a change.
At first it looked as if Golden Boy promoter Oscar De La Hoya would steer Canelo clear of the ultra-dangerous and undefeated big puncher GGG. Fans had seen this before in what has become an era of marinating every big fight. After all, we waited five years for Floyd Mayweather-Manny Pacquiao, and, by the time they finally cashed in, the fight was nowhere near what it should have been in terms of competition had it taken place a couple of years earlier.
We wanted Canelo-GGG in 2016, but in retrospect the decision to put it off — but not for too long — proved to be smart for De La Hoya, whose decision helped build it into a much bigger fight while allowing Alvarez to get better and grow into a full-fledged middleweight, while also aging Golovkin just a little bit more.
Each took interim fights, with GGG edging Daniel Jacobs in a tough fight in March and Alvarez whitewashing Julio Cesar Chavez Jr. in May. Both of those fights were significant events and set the stage for the big one, surprisingly announced in the ring immediately after Alvarez-Chavez.
Golovkin and Alvarez met before a sold-out crowd at T-Mobile Arena in Las Vegas on Sept. 16 (Mexican Independence Day) and turned in the sort of outstanding fight we all hoped for, marred only by the ludicrous scorecard of Adalaide Byrd, whose 118-110 for Canelo was one of the most disgraceful in history.
The fight turned out to be a draw, although most thought GGG clearly won. That means they're likely to give us another big event in 2018: a rematch on May 5.
Mayweather-McGregor actually happened
Yeah, I admit it: I was one of the gazillion skeptics who never thought this fight would happen.
Sure, it was an interesting idea for Conor McGregor to cross over from UFC to box against an unretiring Mayweather, but no way did I think it would happen. Just a fantasy, right? Too many issues. A hard business deal to make, not to mention I didn't even think it should be approved by the Nevada commission. How could the panel license McGregor to make his pro boxing debut against an all-time legend?
Well, what I forgot was that it's always about the money.
The camps made a deal, and Nevada rubber-stamped McGregor's license. Then came a wild 2½-month microwaved promotion that included an R-rated world promotional tour followed by the fight on Aug. 26 at T-Mobile Arena.
It was the biggest event of the summer, and the curiosity of the public and the big mouths of the combatants made it a smash hit. The fight sold about 4.3 million pay-per-views and generated more than $600 million in total revenue, both good for second place all time behind only Mayweather-Pacquiao.
And you know what? It wasn't a half-bad fight, and it was certainly way better than anyone had a right to expect.
In the end, Mayweather (who later said what many of us thought — that he had carried his foe for a few rounds) knocked McGregor out in the 10th round.
Amazingly, the sun came up the next day, they counted their money and fans had at least gotten a solid fight.
Joshua-Klitschko delivers
England's Anthony Joshua, the only fighter on the planet in the conversation with Canelo for world's biggest active boxing star, waltzed to a heavyweight world title and defended it twice, but he had not been truly tested. So when he was matched with former longtime all-time great champion Wladimir Klitschko, who was only one fight removed from losing his belts by decision to Tyson Fury 17 months earlier (and seeing the rematch twice canceled because of Fury's slew of personal issues), it was viewed as a very serious fight.
The Joshua-Klitschko pairing captivated the boxing world and was front page news in the United Kingdom. So big was the fight on April 29 at Wembley Stadium in London that promoter Eddie Hearn of Matchroom Boxing sought (and received) permission from the London mayor's office to add an additional 10,000 seats for the bout, bringing the capacity to 90,000. The fight sold out, and, in front of that electrifying British boxing record crowd — as amazing as any spectacle or atmosphere I have ever been ringside for — Joshua and Klitschko put on a fight for the ages.
It had been years since the big buys had produced such a thriller. It was the easy pick as the 2017 ESPN.com fight of the year with the fifth round the clear selection for round of the year. It was the ultimate matchup of young star against aging star, and it delivered tremendous action and drama, huge shifts of momentum and multiple knockdowns (four in all, with both hitting the deck).
In the end, the younger Joshua outlasted Klitschko and stopped him in the 11th round of an unforgettable fight that served as a true passing of the torch in the division and was everything we all hoped it would be.
Top Rank-ESPN marriage
In a deal that has already dramatically altered the boxing television landscape in its first six months, Bob Arum's promotional powerhouse Top Rank, perhaps the most successful promotional company in boxing history, left longtime television home HBO to move all of its events to ESPN for at least four years.
The deal, the brainchild of Top Rank president (and Arum stepson) Todd duBoef, and embraced by the network's executives, kicked off with Jeff Horn's massive upset (and controversial decision) over Manny Pacquiao in a welterweight world title fight in July in Brisbane, Australia.
To show its commitment to the deal, ESPN sent its crew on somewhat short notice for the event Down Under, Pacquiao's first off of pay-per-view in many years. It was an excellent fight and played to a massive audience and set the tone for the deal. The bout averaged nearly 3 million viewers, making it the most watched fight on cable television since 2006 and the most watched fight on ESPN's networks since 1995.
The agreement will make boxing a significant part of ESPN's focus and will give fighters such as two-time fighter of the year Terence Crawford, pound-for-pound king Vasiliy Lomachenko, Oscar Valdez, Gilberto "Zurdo" Ramirez and the rest of Top Rank's stable high visibility and activity, not to mention a place for up-and-comers such as Shakur Stevenson, Michael Conlan and Teofimo Lopez Jr. a place to grow in front of an audience far larger than what HBO or Showtime could offer.
The deal is a game-changer — though it leaves the sport, at least in North America, splintered into three factions (ESPN/Top Rank, Showtime/Al Haymon and HBO/Golden Boy/Main Events/Tom Loeffler) instead of just two. Let's hope that, at least for the biggest fights, they can work things out to make them happen.
Galaxy of stars retire
It seemed as though a whole era of pound-for-pound elite fighters announced their retirements in the past year. One after the other, enough guys called it a career to fill a wing of the International Boxing Hall of Fame. Of course, the era's best fighter, Floyd Mayweather, came out of a nearly two-year retirement to face McGregor, beat him, banked another few hundred million and retired again with a perfect record of 50-0 (27 KOs). Also announcing retirements were several others:
All-time great former heavyweight champion Wladimir Klitschko (64-5, 54 KOs) retired after losing so valiantly to Anthony Joshua in the 2017 fight of the year and an all-time great title fight rather than exercising his right to an immediate rematch worth eight figures.
Puerto Rican legend and four-division champion Miguel Cotto (41-6, 33 KOs) followed through on his promise from earlier in the year to retire at the end of the year, which he did after he lost his junior middleweight belt by decision to Sadam Ali.
Andre Ward (32-0, 16 KOs) knocked out Sergey Kovalev in their rematch and then shocked us all by vacating his three light heavyweight belts, giving up his perch as the pound-for-pound No. 1 and retiring undefeated.
Mexican legend and four-division titlist Juan Manuel Marquez (56-7-1, 40 KOs) hadn't fought since a decision win over Mike Alvarado in 2014, and, when he could not overcome a persistent knee injury, he announced that he was done.
Two-division titleholder Timothy Bradley Jr. (33-2-1, 13 KOs) and former pound-for-pound king and three-division world champ Sugar Shane Mosley also hung up the gloves.
It wouldn't be a shock if any of them eventually made a comeback, but if they are indeed done, the Hall of Fame is going to be busy in the coming years.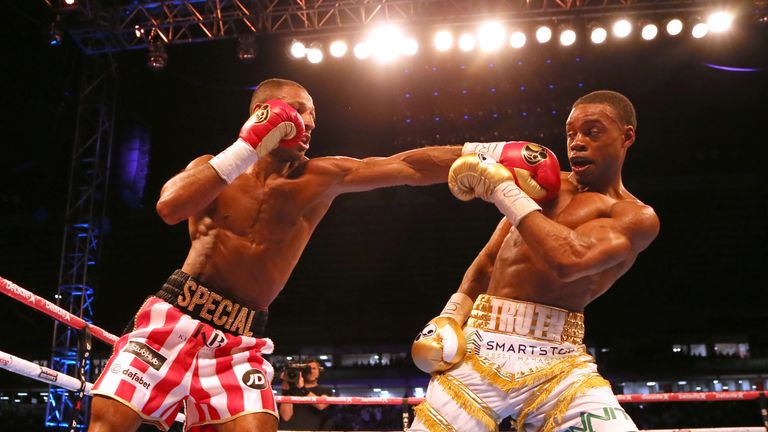 Source: www.espn.com