From pierogi dumplings to vegan pastry rolls, Ren Behan modernises the traditional fare of her Polish heritage
Polish food, much like Eastern European in general, has a bad rep. What comes to mind is heavy, grey, uninspiring and pretty much inedible. But that was then.
Now, Ren Behan – a lawyer turned food writer after a successful blog – has turned those misconceptions on its head with her first book, Wild Honey and Rye.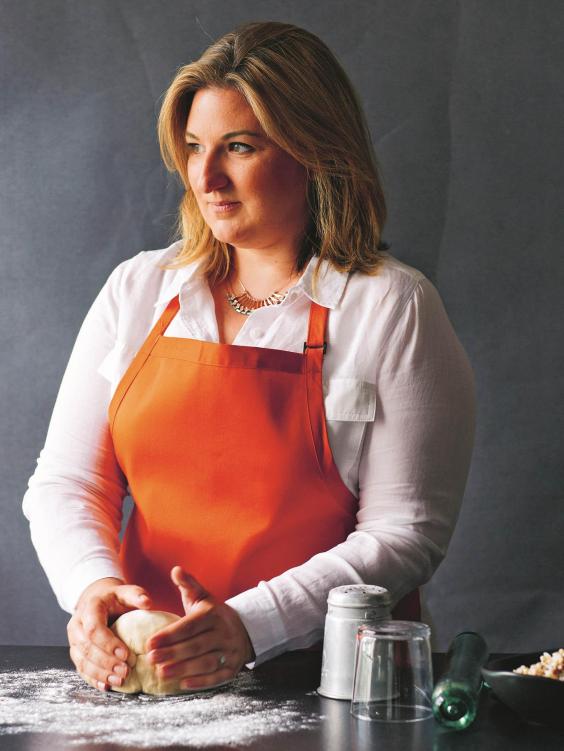 With Polish heritage, she's inspired by the food she ate as a child and the new wave of restaurant dining in Poland, which combined allow her to modernise these recipes, making them more appealing and accessible for today's industry.
The book is split into seven sections, from sweet and savoury breakfasts (sniadanie) to seasonal soups, street food and high tea.
And the photography throws those bland ideas right out the window.
Polish gnocchi with bacon and mushrooms
Kopytka translates as "little hooves" and they are sometimes described as Polish gnocchi because they are similar to Italian gnocchi. Some Poles also call these paluszki, which means "little fingers". I sometimes experiment with gluten-free flour and I like to make these with almond flour. These can be served sweet, too, with melted butter and a sprinkle of sugar, drizzle of honey or maple syrup – even for breakfast. If you add twarog, Polish soft cheese, to the dough, you end up with leniwe, "lazy dumplings". In the Ukraine, these are made simply with cheese, egg and flour and called halushky.
Serves 4
500g potatoes, such as Maris Piper or a heritage variety, peeled
250g plain (all-purpose) flour, plus extra for dusting (or use almond flour for a gluten-free version)
1 egg, beaten
sea salt and freshly ground black pepper
To serve
vegetable or olive oil
1 tsp butter
1 onion, finely chopped
100g Polish bacon, boczek, or pancetta
200g fresh chanterelles, porcini or chestnut mushrooms
2 tsp chopped fresh parsley
Boil the potatoes in a large pan of salted water until very soft. Drain and set to one side to steam dry. Once cool and very dry, mash until smooth. Leave the potatoes to cool completely or chill in the fridge.
Put the cold mashed potato into a large bowl. Add the flour, beaten egg and a good pinch of salt and pepper. Using a metal spoon, bring the mixture together, then tip it out onto a lightly floured board or work surface and knead until all the flour is incorporated into the potato. The dough should be fairly soft and springy, but not too sticky.
Falmouth: A foodie haven by the sea
Sprinkle a little more flour onto the board and cut the dough into quarters. Roll each piece into a long cylinder and cut the dough at an angle into 2.5cm/1in pieces. Repeat until you have used up all the dough.
Bring a saucepan of salted water to the boil and drop a few dumplings in at a time – it's best to cook them in batches. Gently boil for 3-4 minutes; they will rise to the top once cooked. Take them out with a slotted spoon, drain in a colander and continue until you have cooked all the dumplings. Set them to one side.
Heat the oil and butter in a large frying pan and cook the onions for 4-5 minutes until soft. Add the bacon and fry until golden and crisp. Add the mushrooms, season with salt and pepper and stir in the parsley. Add the kopytka to the pan, stir everything together and cook until the kopytka begin to turn golden, then serve.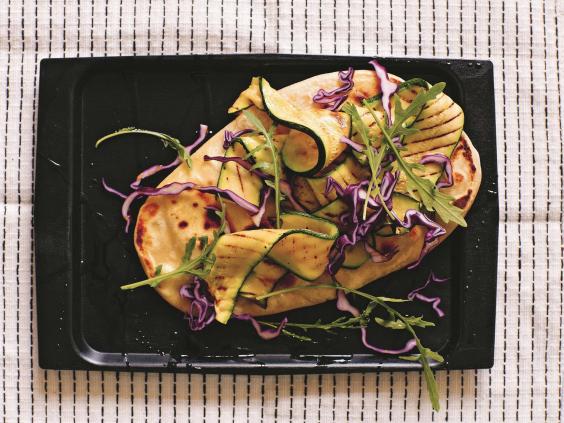 Polish flatbreads with courgette, red cabbage and rocket
A podplomyk is a type of Polish flatbread, similar to a tortilla; it's a type of bread that most Polish people might remember their grandmother making, but you will now spot podplomyk at Polish food festivals and street food markets. Here's the way I like to eat them, but they are equally good straight from the pan, just as they are. Look out too for zapiekanki, a sort of baguette-pizza, topped with all sorts of ingredients, my favourite being tomato, mushrooms and cheese, and garnished with fresh chives.
Makes 6
500g white, wholemeal or rye flour (or a blend), plus extra for dusting
250ml water
pinch of salt
2 tsp cold-pressed rapeseed (canola) oil, plus extra for drizzling
1 tsp honey
2 courgettes, peeled into strips
½ head red cabbage, finely shredded
a handful of rocket leaves
Sift the flour into a bowl and stir in the water, salt, 1 teaspoon of oil and the honey. Bring the mixture together by hand to create a ball of dough – you can also do this in a food processor. Tip the dough out onto a lightly floured surface and knead for 5 minutes, until smooth and elastic. Wrap in clingfilm (plastic wrap) and leave to rest for 10 minutes.
Divide the dough into six pieces and cover with a damp tea towel. Sprinkle a little flour onto a work surface and roll out each piece of dough into a circle about 5mm/¼in thick. Heat a large frying pan and place one flatbread at a time into the dry pan over a low heat. Cook for 1-2 minutes on each side, taking care not to burn the bread.
For the topping, heat a griddle pan and brush with the remaining 1 teaspoon of oil. Place the courgette pieces flat onto the pan and cook for 1-2 minutes on each side, until nicely charred. Top the flatbreads with the chargrilled courgette strips, scatter over the red cabbage and rocket leaves and serve drizzled with rapeseed oil.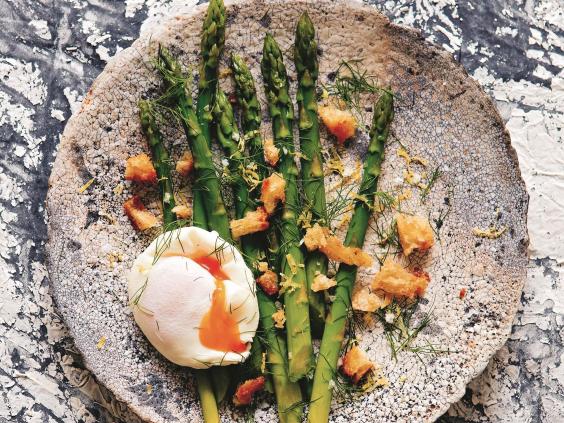 Asparagus a la polonaise
I love the term "a la Polonaise", a French term meaning "in the Polish manner", because it conjures up an era gone by of French cooks in the 19th century being influenced by the Polish way of cooking thanks to a wave of emigres settling in Paris. The term refers to a garnish for cooked vegetables: A topping of buttery breadcrumbs, sometimes with chopped hard-boiled egg. You can use this topping for all manner of market vegetables, such as Brussels sprouts, cabbage, cauliflower, green beans or leeks. You could also use it as a topping for meat or fish: Roasted cod works well. I have modernised this recipe slightly by using sourdough bread morsels and adding a softly poached egg.
Serves 2
about 450g fresh asparagus, stalks trimmed
50g butter
1 tbsp vegetable oil
2 slices sourdough bread, torn into small pieces or chopped into cubes
2 eggs
2 tsp white wine vinegar
grated zest of ½ lemon
sea salt
1 tsp chopped fresh dill

Plunge the asparagus into a large pan of boiling water. Cook for 5 minutes. Drain and set aside. Heat the butter and oil in a large frying pan. Add the bread pieces, tossing until well coated and fry for 3-4 minutes, until golden and crisp.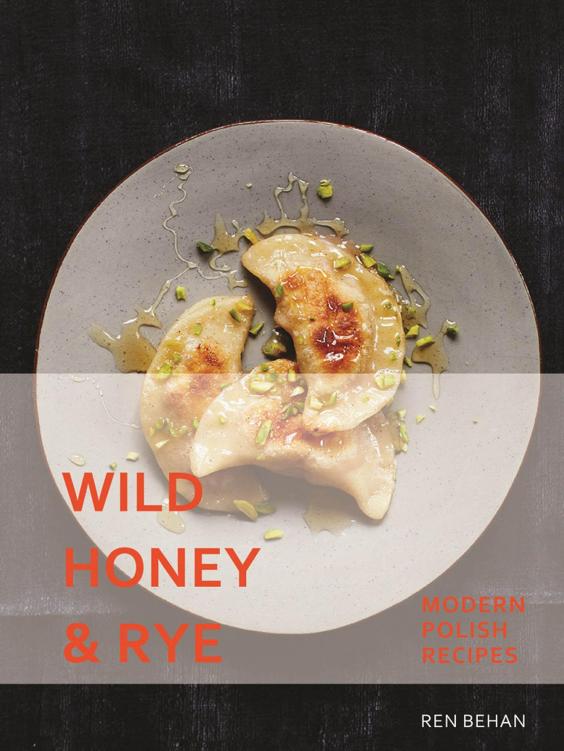 To poach the eggs, bring a large wide pan of water to the boil. Add the vinegar. Stir the boiling water with a spoon to create a whirlpool effect. One by one, crack the eggs into the centre of the whirlpool. Cook over a low heat for 3 minutes, until the egg whites are firm but the yolks are still soft.
Carefully remove the eggs with a slotted spoon and drain on paper towels. Place the cooked asparagus on two plates. Top with the buttery bread cubes and a poached egg. Sprinkle over the lemon zest, sea salt and dill.
Source: www.independent.com