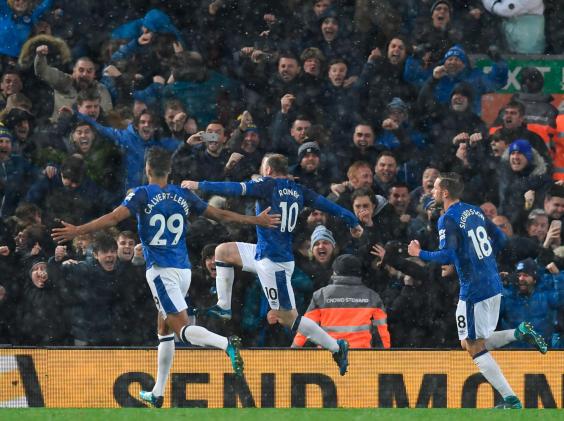 Everton's winless run at Anfield in the league will stretch into a twentieth year yet this draw was a small victory for Sam Allardyce's men
The bitterest of days where Jordan Henderson completed 60 passes in the first half. That's six more than the entire Evertonteam in the same period. Statistics can often be misleading but this one reflected a reality. A manager can have strategy but if he does not have the players to execute it and the opponent has an abundance of quality, there will usually be only one outcome.
But then, there are those occasions where dominance is so absolute, a team forgets to score for a second time. Complacency filters in from the crowd. Passes aren't quite as crisp. Sloppiness creeps. Stupid mistakes are made. And then the struggling team's opportunity presents itself. This is what happened here.
Only Dejan Lovren can explain why decided it was necessary to place his arm across Dominic Calvert-Lewin's back. Judging by his protestations when referee Craig Pawson awarded the subsequent penalty, he did not immediately think it was enough to send the striker sprawling. It gave Wayne Rooney with a chance. With that, the mood of an entire mood shifted dramatically. Everton's winless run at Anfield in the league will stretch into a twentieth year. Yet this draw was a small victory for them.
Liverpool vs Everton: Player ratings
Sam Allardyce might claim that this was his plan all along. This point was a product of Liverpool's inefficiency, though. Everton battled but Liverpool's win should have been secured when the game's equaliser came.
The result leaves Jürgen Klopp with questions to answer. He made six changes to the team that did not have to exert much energy in beating Spartak Moscow 7-0 on Wednesday night. If Philippe Coutinho and Roberto Firmino were on the pitch from the start rather than appearing from the bench, perhaps Liverpool would have been more ruthless.
The kick off provided an immediate insight into Everton's mindset. Glyfi Sigurdsson passed the ball back to Mason Holgate. Holgate boomed a pass forward that hinted at more of a clearance. It went straight into the Kop. As early as the twentieth minute, Rooney was telling Jordan Pickford to take more time with his goal kicks. The two taken prior had ended up clattering into the advertising hoardings of the main stand. Pickford looked nervous. But Liverpool were initially struggling to find ways of really testing him.
By the half hour mark, Liverpool had 80-per-cent of possession. Yet none of their six shots at that point had been on target. It would be inaccurate to say Everton were comfortable. They were jittery and were struggling to string passes together. But Liverpool were not moving the ball quickly enough to really unsettle them.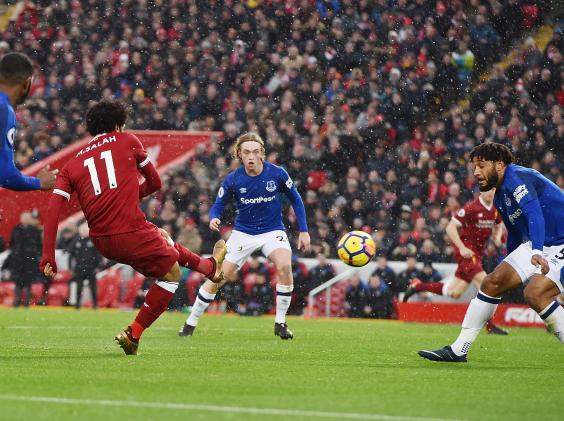 It would take a moment of genius to alter the pattern. That moment was delivered by Mohamed Salah whose 19th goal of the season involved a sharp turn past Cuco Martina, a twist that negated Idrissa Gueye's presence as irrelevant and then a glorious curling shot beyond Pickford and into the very top corner of the net.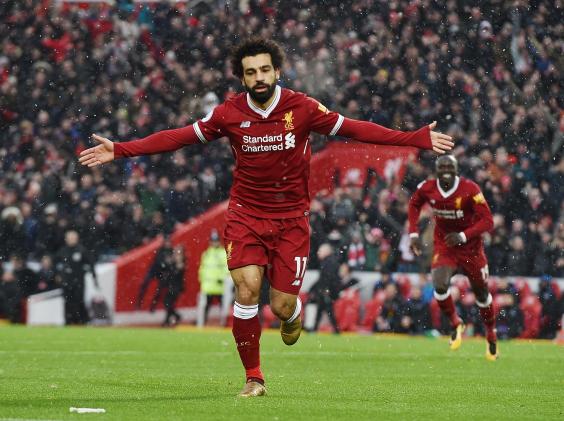 Allardyce, who'd spent the half on his feet pointing his players into the positions he wanted, sat down in his dugout suddenly and Everton lost focus. Liverpool were rampant and their half time lead should have been by two. Having been released by Dominic Solanke, though, and with Everton's defenders trailing behind him Sadio Mané rushed his responsibility. Solanke's inclusion had been another surprise decision by Klopp.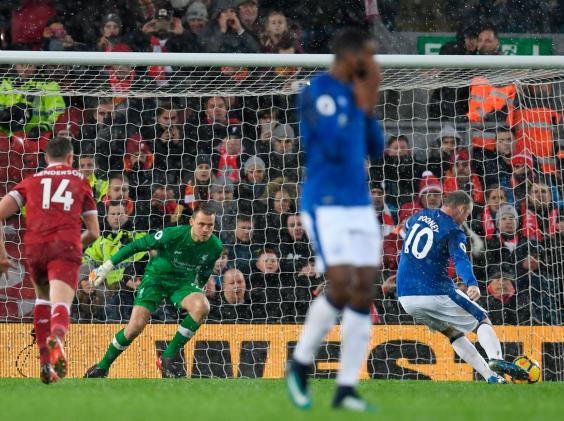 Further opportunities came for Liverpool. Salah headed just wide via a superb James Milner cross. Pickford palmed away another delivery from the wing just when it seemed Mané was destined to make it 2-0. Liverpool's control was unquestionable and the level of confidence inside Anfield was reflected by ironic home cheers when Everton forced their first corner in minute 70.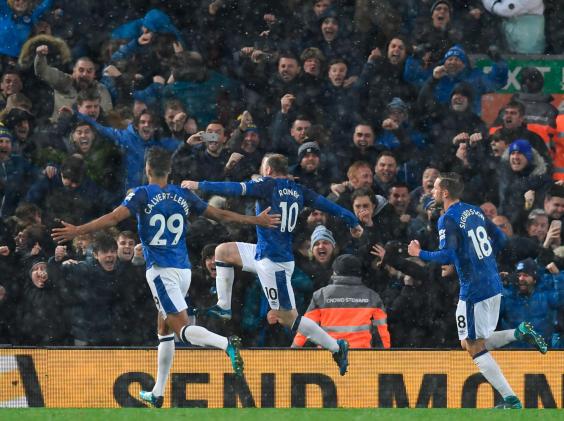 At 1-0, any team is always at risk regardless of the flow. All it needs to change the mood is a lapse in concentration or a flicker of old brilliance from someone like Rooney. Everton got both because it was Rooney's pass that prompted Calvert-Lewin into a foot race. Lovren seemed to have the situation under control because the striker was heading away from goal. Yet as soon as the Croatian placed an arm on his pack, it gave Calvert-Lewin the reason to fall and from there referee Pawson had a decision to make. It was only Everton's second penalty at Anfield since 1937. Rooney would make no mistake. Out of nothing, Everton were saved.
Source: www.independent.com